Fight disinformation:
Sign up
for the free
Mother Jones Daily
newsletter and follow the news that matters.
President Obama announced yesterday that, yes, he would veto a bill to approve the Keystone XL pipeline. This is hardly news, since he's already said this before, but it was nonetheless reported as yet another shot across the bow of congressional Republicans. The GOP wants to be reasonable and bipartisan—honest!—but it's tough when Obama keeps deliberately baiting them like this.
So what's the GOP doing as a show of good faith? Trying to blow a hole in Obamacare, of course. But that's not all! They've actually picked a specific plan that's something of a trifecta. Here's what it does:
Cripples a part of Obamacare.
Costs the federal government money.
Increases corporate profits.
Don't you love the smell of napalm in the morning? The proposal in question would change the definition of full-time worker from 30 hours to 40 hours. As a result, employers would be required to offer health insurance only to employees working 40 hours or more, not those working 30 hours or more. It's hard to truly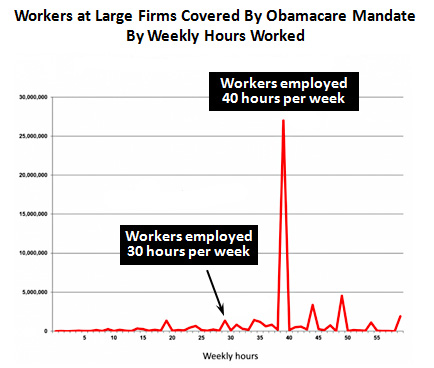 capture the cynicism motivating this proposal, but Matt Yglesias does a pretty good job this morning. I'll turn over the mike to him:
It turns out that the authors of the ACA weren't idiots….Sherry Glied and Claudia Solis-Rosman have shown that while working slightly more than 40 hours is common, working slightly more than 30 hours is rare. In other words, few workers are at risk of having hours slashed from 31 per week to 29, but many could be cut back from 41 to 39.

….While a shift from a 30-hour definition to a 40-hour definition would exacerbate the problem of hour cuts, it would help solve one very serious problem — the problem of rich businessmen who would like to see higher profits rather than lower profits. Lifting the hours threshold would automatically cause millions of workers to fall below the limit, saving their employers money in insurance premiums and fees to the government. And lifting the hours threshold would also make it easier for employers to monkey with workers' schedules to get them redefined as part-time.

At a time when corporate profits as a share of the economy are abnormally high, boosting profits at the expense of workers' health insurance coverage isn't necessarily a great political slogan. But it's still something that business owners and managers care passionately about, and business priorities tend to get a thorough airing on the Hill.
There's always going to be some threshold that defines "full-time" workers. And no matter what that threshold is, there will be employers who game the system by reducing the hours of some employees from barely above to barely below the threshold. There's just no way around that. But you can certainly try to minimize the problem by picking a threshold that's hard to game. One way to do that is to set the threshold at a level that affects very few workers. Democrats did that when they passed Obamacare in 2009, and that was good for employees, good for Obamacare, and good for the budget since it meant fewer workers receiving federal subsidies.
But not so good for anyone who wanted to game the system and toss lots of vulnerable employees onto the federal dime. Apparently that's the GOP's core constituency, though. Are you surprised?