Fight disinformation:
Sign up
for the free
Mother Jones Daily
newsletter and follow the news that matters.
Back when Trey Gowdy was appointed to lead the House Select Committee on Benghazi, a friend of mine told me I should withhold judgment for a while. Gowdy might be a true believer conservative, but he wasn't a hack like Darrell Issa. His committee might actually do a fair job.
I was skeptical, but I didn't really know much about Gowdy except for his captivatingly unkempt hair (since cleaned up a bit, sadly). So I waited. Before long, the committee was leaking snippets of testimony taken out of context, a favored tactic of Issa.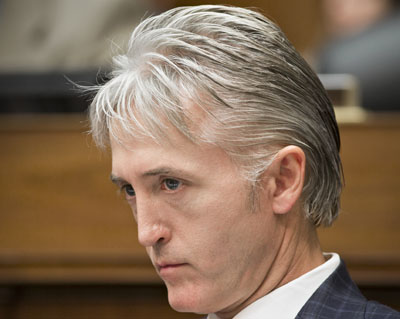 Then it seemed to morph into a full-time attack machine aimed at Hillary Clinton. And now, just to prove that things can always get stranger, Gowdy has inserted himself into the Iran nuclear deal.
It turns out that Gowdy wants to interview John Kerry's chief of staff, Jon Finer. No problem. However, the State Department told Gowdy that Finer wouldn't be available next Tuesday because he had to accompany Kerry to a Foreign Affairs Committee meeting on the Iran deal. Steve Benen picks up the story:
Kerry's chief of staff, Jon Finer, has actual work to do and needs to be available to the House Foreign Affairs Committee on Tuesday. The State Department made clear to Benghazi Committee Chairman Trey Gowdy (R-S.C.), in writing, that it "will not be possible" for Finer to speak to the Benghazi panel on July 28.

So, Gowdy scheduled a meeting and demanded that Finer appear on July 28. If he has a relevant role to play in helping address concerns over the nuclear deal, too bad.

When House Speaker John Boehner (R-Ohio) and GOP leaders created the House Select Committee on Benghazi, critics predicted a ridiculous escapade that would do little to shed light on the deadly terrorism, and would instead become a sad, partisan spectacle.

Republicans appear to have gone out of their way to prove the critics right. It didn't have to be this way.
The funny thing about this is that for all the damage Republican investigations did to Bill Clinton in the 90s, their encore performance has gone miserably. In the Obama era, committee after committee has bombed. Fast & Furious, Solyndra, Benghazi, net neutrality, the IRS, and dozens more: all have petered out with hardly enough to make Obama blush, let alone do him any real damage. The fact is that Obama has run a remarkably clean administration, and Republicans just can't stand it. They just know that the socialist-in-chief is scheming to destroy America if only they can dig up the evidence. So they keep digging maniacally.
But the digging goes nowhere, because there's no there, there. I don't think they'll ever admit it, though.