Fight disinformation:
Sign up
for the free
Mother Jones Daily
newsletter and follow the news that matters.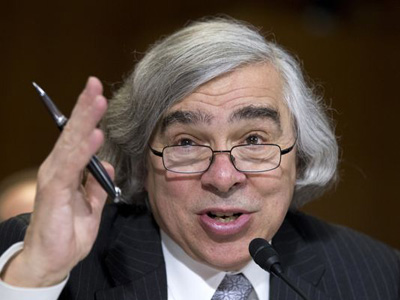 Maybe you could call this the revenge of the nerds?
He's blinding them with science.

Or intellectually charming them anyway. That's how Energy Secretary Ernest Moniz seems to be winning fans in the difficult fight to sell the Iran deal on Capitol Hill….Moniz, a nuclear physicist with mad-scientist hair, has already been credited as the administration's secret weapon in the lengthy negotiations to secure an Iran deal that will prevent the rogue country from securing a nuclear weapon.

….Moniz can certainly lapse into the technical talk with aplomb — and when he gets to talking about the half-lives of isotopes and the detection technologies that will be deployed to survey Iran's suspected nuclear activities, he can leave his audience in the dust.

But in the two years since Moniz became Energy Secretary, lawmakers have far more often noted and applauded the former professor's natural ability to translate complex scientific concepts into digestible terms.
It's funny, in a way. Plenty of highly-qualified scientists have testified before Congress, and mostly they get treated as if they were balky university freshmen. But nuclear physics! That still has cachet. Start talking about the half-lives of isotopes and legislators swoon with admiration.
Except for dumbest among them, of course, who can't tell the difference between an MIT-trained physics PhD and Dr. Phil. That, of course, would be Wisconsin's favorite son, Ron Johnson. He just wanted to talk about the danger of electromagnetic pulses. Nice work, Senator.