Fight disinformation:
Sign up
for the free
Mother Jones Daily
newsletter and follow the news that matters.
Yesterday, Steve Benen got me up to date on the latest lunacy from Maine Gov. Paul LePage. A few weeks ago, LePage decided to ignore a bunch of bills he didn't like, figuring he would "pocket veto" them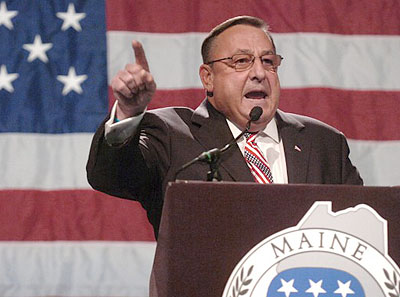 by simply withholding his signature. Unfortunately, he didn't understand how the Maine constitution works, which means that all the bills became law. So now he says he just won't enforce any of them. Uh huh.
Next, a private school hired Democratic House Speaker Mark Eves, a man LePage especially loathes, so he told the school to either fire Eves or else they'd lose their state money. Unless Maine law is truly extraordinary, this is so blatantly illegal that only someone completely out of control would even try it. Unsurprisingly, Eves is suing LePage, and this is LePage's defense:
The Tea Party governor hasn't actually denied the allegations, and neither have LePage's allies. The Maine Republican did argue this morning, however, that when he threatened the school it was comparable to LePage intervening in a domestic-violence dispute.

"It's just like one time when I stepped in … when a man was beating his wife," the governor said. "Should have I stepped in? Legally, no. But I did. And I'm not embarrassed about doing it."
Um, what? This is Sarah-Palin quality gibberish. And it's hardly the first sign that LePage isn't playing with a full deck. (You can find much, much more like this with any old Google search.) So here's what I don't get. It's one thing to elect the guy once. But how did he manage to get reelected last year? It's not because it was a 3-way race. He won 48 percent of the vote and probably would have won even without a third-party spoiler. But by then his lunacy should have been obvious to all. Are Maine residents really that attracted to kooks? Did the Democratic candidate threaten to outlaw lobster rolls? Or what? What the hell is going on up in Maine?