Fight disinformation:
Sign up
for the free
Mother Jones Daily
newsletter and follow the news that matters.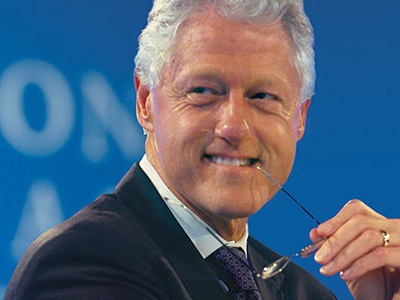 Oh man, this is the best Clinton conspiracy story ever. Except apparently it's true:
Former president Bill Clinton had a private telephone conversation in late spring with Donald Trump at the same time that the billionaire investor and reality-television star was nearing a decision to run for the White House, according to associates of both men. Four Trump allies and one Clinton associate familiar with the exchange said that Clinton encouraged Trump's efforts to play a larger role in the Republican Party and offered his own views of the political landscape.

….The tone of the call was informal, and Clinton never urged Trump to run, the four people said. Rather, they said, Clinton sounded curious about Trump's moves toward a presidential bid and told Trump that he was striking a chord with frustrated conservatives and was a rising force on the right.

One person with knowledge of Clinton's end of the call said the former president was upbeat and encouraging during the conversation, which occurred as Trump was speaking out about GOP politics and his prescriptions for the nation.
Conservative heads must be exploding right about now. Is the Trump candidacy just a devious Clinton scheme to screw up the Republican primaries? It's just the kind of thing a Clinton would do, after all. Did Bill know that Trump would confirm every horrible stereotype of conservative intolerance that moderates have of the GOP, thus ensuring a Hillary win in November? Or was it really just a casual call and Trump is still the real deal? Or…or…maybe the whole thing is yet another Trump PR stunt? Or maybe Bill has a mole inside the Trump campaign? OMG, OMG, OMG.
Anyway, the most fascinating thing about this is not the fact of the phone call itself, but the fact that four Trump allies spilled the beans to the Post reporters. That's not just one loose-lipped nitwit. It's as if Trump wanted this to get out. But why? And why the timing right before the first debate? Does Trump want to make sure he gets asked about this?
And how does this affect Trump's candidacy? Does it make him less attractive to tea partiers, since he was consorting with the devil a few months ago? Or is it a net positive, because it makes him more attractive to moderates, who figure maybe Trump is OK if Bill Clinton encouraged him to "play a larger role"?
I dunno. I just want to know what conservative Trump supporters are thinking about this. I don't see anything yet at Red State or The Corner or Hot Air or Power Line or Breitbart. Maybe they just haven't caught up. Or maybe they don't trust the reporting of the hated mainstream media in the first place. Stay tuned.