Fight disinformation:
Sign up
for the free
Mother Jones Daily
newsletter and follow the news that matters.
How big is the "gig economy"? An Uber driver is the archetypal gig worker, but more generally it refers to anyone who works independently on a contingent basis. This means, for example, that an old school freelance writer qualifies.
Still, it's tech that's driving the gig hype, and if the hype is true then the number of gig workers should be going up. Lydia DePillis takes a look at this today and recommends two sources:
The Freelancers Union, which advocates for self-employed people of all kinds, recently came up with the 53 million number Warner mentioned. MBO Partners, which provides tools for businesses that use contractors, put it at 30.2 million. But for lawmaking purposes, it's probably a good idea to get your information from a source that doesn't have a commercial interest in the numbers it's putting out.
True enough, but let's start with these folks. The Freelancers Union reports that in 2015 the gig economy "held steady" at 34 percent of the workforce. MBO Partners reports that it "held firm" at 30 million. They additionally report that it's increased 12 percent in the past five years, which is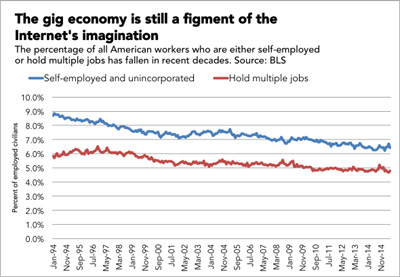 not especially impressive considering that total employment has increased 9 percent over the same period.
The government does not track this directly, and I assume that these two sources are generally motivated to be cheerleaders for the gig economy, which means their numbers are about as optimistic as possible. If that's true, it looks as though the gig economy is almost entirely smoke and mirrors. After all, if it were a big phenomenon it would be getting bigger every year as technology became an ever more important part of our lives. And yet, both sources agree that 2015, when the economy was doing fairly well, showed no growth at all in the gig economy. What's more, as Jordan Weissmann and others have pointed out, what little government data we have isn't really consistent with the idea that the gig economy is growing.
So be wary of the hype. Maybe the gig economy will be a big thing in the future. Maybe the tech portion is growing, but the growth is hidden by a decline in traditional freelancing. Maybe. For now, though, it appears to be mostly just another example of the reality distortion hype that Silicon Valley is so good at.