Fight disinformation:
Sign up
for the free
Mother Jones Daily
newsletter and follow the news that matters.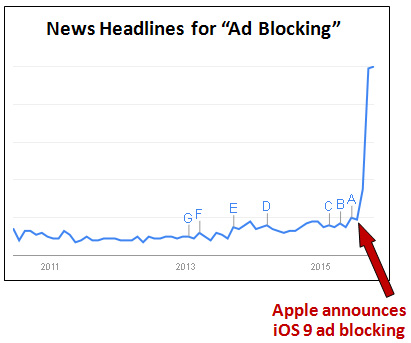 It's pretty amazing. Ad blockers have been around forever. I've been using AdBlock Plus for nearly a decade and nobody ever cared. It was just a quiet little thing that a few power users knew about.
But as soon as Apple decided to allow ad blocking on the iPhone, suddenly the world went nuts. News headlines exploded. Half the sites I visit now check for ad blockers and hit me with guilt-inducing messages about how I'm bankrupting them if I decline to read their latest Flash creations and bouncing gif animations. Hell, I just got one of these messages on Phys.org. For a while, the Washington Post randomly declined to let me read their articles at all unless I removed my ad blocker.
I've got one question and one comment about this. The comment is this: Screw you, Apple. Everything was fine until you decided to barge in. The question is this: Is publisher panic over loss of ad revenue rational? Genuine question. I understand that mobile is where all the ad dollars are, and I understand that Apple accounts for a sizeable chunk of the mobile market. But is ad blocking ever likely to become a mass phenomenon, or will it continue to be used only by power users? I suppose there's no way to know. In any case, the recent hysteria over ad blocking sure does show the incredible PR power of Apple. If you take something that's been around forever—4G LTE, large screens, ad blocking—and slap it on an iPhone, everyone goes nuts. It's Apple's world and the rest of us are just pawns in the games they play.