Fight disinformation:
Sign up
for the free
Mother Jones Daily
newsletter and follow the news that matters.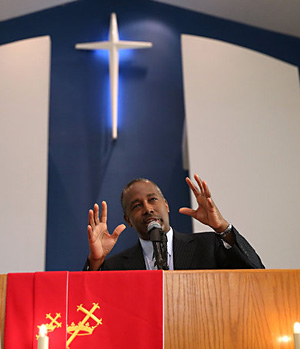 For those of you who may have missed it, the Wall Street Journal decided to check out another Ben Carson story yesterday. Here's the story as recounted in Gifted Hands, about Carson's time as a student at Yale:
Ben is broke. Finds ten-dollar bill on sidewalk. Thank you, Lord!
A year later, Ben is broke again. Looks for ten-dollar bill, doesn't find one.
Ben gets notice that all the final exams in Perceptions 301 were accidentally lit on fire. He goes in for the retest.
The new test is really, really hard. A girl near Ben tells her classmate they should leave. "We can say we didn't read the notice."
Everyone starts leaving. Ben is conflicted. "I was tempted to walk out, but I had read the notice, and I couldn't lie and say I hadn't."
Eventually Ben is the only one left. The professor comes back in with a Yale Daily News photographer. The whole thing was a hoax, she said. "We wanted to see who was the most honest student in the class. And that's you."
Ben concludes the story: "The professor then did something even better. She handed me a ten-dollar bill."
End scene.
And now for a couple of comments that I've seen this morning. First, Atrios remarks that the story is simply not believable. And that's true. I assume that's why the Journal decided to check it out. It sounded completely phony, and they concluded that it was, in fact, phony.
Second, Adam Serwer tweets that most of Carson's deceptions and embellishments are unnecessary. His personal story is great without them. And generally speaking, that's true. But in this case it's not.
Here's the thing: the beating heart of Carson's personal story is about his redemption by God. So he says he had a violent temper as a kid, and then became a new man after praying in a bathroom one day. In fact, God turned him around so thoroughly that West Point offered him a full scholarship. He went to Yale instead, where the Lord took care of his finances when he was in desperate straits. And as a bonus, it was because of his Christian inability to tell a lie.
Are these embellishments unnecessary? Sure. But Carson knows his audience. Serious evangelicals really, really want to hear a story about sin and redemption. That requires two things. First, Carson needs to have been a bad kid. Second, redemption needs to have truly turned his life around. He was already a student smart enough to get into Yale, so he needs more.
That's where these stories come in. He needs to exaggerate how violent he was when he was young. And after he finds God, he needs to exaggerate how great everything turned out. This culminates in the absurd story about his psychology class. No one who's not an evangelical Christian would believe it for a second. But evangelicals hear testimonies like this all the time. They expect testimonies like this, and the more improbable the better. So Carson gives them one. It's clumsy because he's not very good at inventing this kind of thing, but that doesn't matter much.
Not all of Carson's deceptions follow this pattern. But several of them do. And they were far from unnecessary. Carson needed to sell his story to evangelicals, and that required a narrative arc as formulaic as any supermarket romance novel. So he gave them one.