Facts matter:
Sign up
for the free
Mother Jones Daily
newsletter.
Support
our nonprofit reporting.
Subscribe
to our print magazine.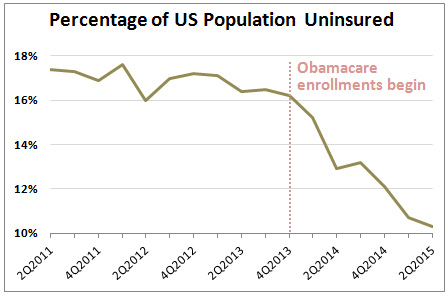 I forgot to blog about this when the numbers came out, but the CDC has now updated their survey of the uninsured through the second quarter of 2015. Results are on the right.
The number of uninsured adults under 65 continues to decline, from 10.7 percent in Q1 to 10.3 percent in Q2. Four percent of all Americans under 65 have now purchased health insurance via the exchanges, and many others have purchased Obamacare coverage off exchange. Not bad.