Fight disinformation:
Sign up
for the free
Mother Jones Daily
newsletter and follow the news that matters.
This has been a shockingly surprise-free evening. Trump and Sanders were both expected to win by about 20 points, and that's what they did. The next four Republicans were expected to bunch up, and that's what they did. Kasich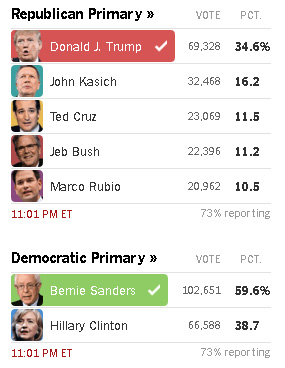 did a little better and Rubio a little worse than the polls showed, but that's all. As for Chris Christie, he bet the farm on New Hampshire and now the mortgage is due. He's toast.
So is Kasich, by the way. I'm afraid a 16 percent showing in New Hampshire isn't going to be strong enough to do him any good. More and more, it's starting to look like Trump vs. Cruz for all the marbles, with Rubio and Bush still having outside shots as spoilers.
I guess Trump was the big winner tonight. He won big, he's got good numbers in South Carolina, and the race for second place was close enough that probably nobody is going to pull out. As long as Trump is competing with a bunch of rabble, instead of one or two well-funded competitors, he'll probably keep doing pretty well. The only question left is whether the chump faction of the Republican Party is big enough to actually deliver him the nomination. I think I no longer have an opinion about that.