Fight disinformation:
Sign up
for the free
Mother Jones Daily
newsletter and follow the news that matters.
The European Central Bank has decided to take one last crack at getting Europe's economy back on track, announcing a multi-pronged program to boost both inflation and demand. "This has all the hallmarks of the ECB having thrown the kitchen sink at the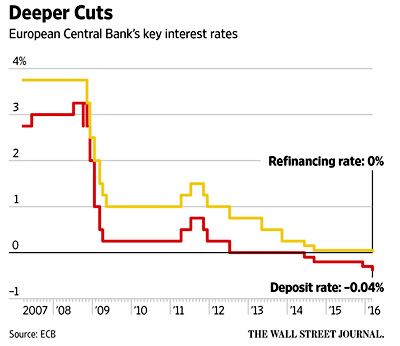 problem," said Aberdeen Asset Management Investment Manager Patrick O'Donnell. The Wall Street Journal has the details:
The ECB announced six steps….It cut the level it charges on excess deposits by 0.1 percentage point to minus 0.4%. This means that banks have to pay even more now to leave excess funds with the central bank overnight. It also cut its main interest rate, the rate it charges on regular bank loans, to an all-time low of zero percent from 0.05% where it was previously.

The ECB said Thursday that it would up the monthly volume of its bond buying program to €80 billion ($87 billion), from €60 billion previously.

It also decided to add investment-grade euro-denominated bonds issued by nonbank firms established in the euro area to the list of eligible assets that it can buy….The ECB also decided to extend its program of targeted loans to banks, designed to encourage banks to lend to the real economy….The ECB also cut its interest rate on its overnight lending facility by 0.05 percentage point to 0.25%.
There's probably less here than meets the eye, but the ECB just didn't have that many arrows left in its monetary quiver. Still, they had to do something. Their own economists had lowered their growth forecast for 2016 to 1.4 percent and lowered their inflation forecast to 0.1 percent. I can't say that I'm optimistic that the ECB's kitchen sink is big enough to do the job on its own, and Europe's large countries continue to be unwilling to spend their way out of their slump. It's going to be a long slog.