Fight disinformation:
Sign up
for the free
Mother Jones Daily
newsletter and follow the news that matters.
Why has OxyContin become the poster child for opioid abuse? The LA Times has a long investigative piece today which suggests that a big part of the blame should be laid at the feet of Purdue Pharma, the makers of the drug. When OxyContin was launched, it was billed as a painkiller that would last 12 hours—longer than morphine and other opioids. That 12-hour dosing schedule was critical to its success.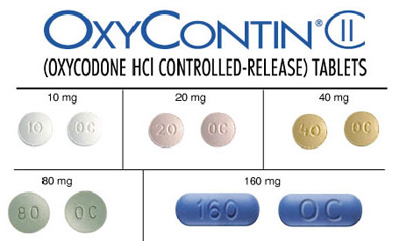 Without it, Oxy didn't have much benefit. Unfortunately, it turned out that it wore off sooner for a lot of people:
Experts said that when there are gaps in the effect of a narcotic like OxyContin, patients can suffer body aches, nausea, anxiety and other symptoms of withdrawal. When the agony is relieved by the next dose, it creates a cycle of pain and euphoria that fosters addiction, they said.

OxyContin taken at 12-hour intervals could be "the perfect recipe for addiction," said Theodore J. Cicero, a neuropharmacologist at the Washington University School of Medicine in St. Louis and a leading researcher on how opioids affect the brain.

Patients in whom the drug doesn't last 12 hours can suffer both a return of their underlying pain and "the beginning stages of acute withdrawal," Cicero said. "That becomes a very powerful motivator for people to take more drugs."
But Purdue refused to accept shorter dosing schedules, since that would eliminate its strongest competitive advantage. Instead, they launched a blitz aimed at doctors, telling them to stick with the 12-hour dosing but to prescribe larger amounts. Sometimes this worked and sometimes it didn't, and when it didn't it increased the chances of addiction:
In the real world practice of medicine, some doctors turned away from OxyContin entirely. San Francisco public health clinics stopped dispensing the painkiller in 2005, based in part on feedback from patients who said it wore off after eight hours. The clinics switched to generic morphine, which has a similar duration and costs a lot less.

"What I had come to see was the lack of evidence that it was any better than morphine," Dr. Mitchell Katz, then head of the San Francisco public health department, said in an interview.
The whole piece is worth a read. Purdue has known from the start that 12-hour dosing didn't work for a significant number of patients, but they relentlessly focused their marketing in that direction anyway. Why? Because without it, Oxy wouldn't be a moneymaker. As for the danger this posed, that was mostly suppressed by keeping documents under seal in court cases "in order to protect trade secrets." Welcome to the American pharmaceutical industry.