Fight disinformation:
Sign up
for the free
Mother Jones Daily
newsletter and follow the news that matters.
Shaun King says he's giving up on the Democratic Party. He can't abide Hillary Clinton's establishment views and thinks the Democratic Party is fundamentally corrupt and in thrall to moneyed interests. Fair enough. This isn't my position, but I understand it.
But there are times when I wonder if we've all succumbed to some kind of mass memory wipe. Although King dislikes Hillary, he says he respects President Obama "a great deal." This prompts interviewer Emmett Rensin to ask an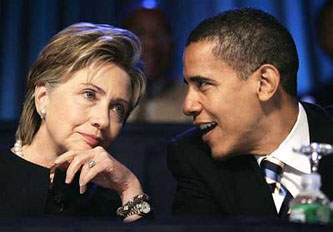 obvious question: Hillary Clinton and Barack Obama have pretty similar domestic policy positions. So why loathe one but like the other? Here is King's answer:
I think we would have to go down each and every one of the president's positions to really evaluate, what does the president think about health care? Yes, there is a thing called Obamacare — but was that what he campaigned on? What came out of the sausage factory, was that his dream? No. Of course not.

So is the president for universal health care? Well, he was. For years and years and years. And I don't know that he stopped being for universal health care. It was just that he used virtually all the political capital he had in his first term to get something decent through Congress, and what came out was very different.
What? I don't doubt that Obama, in his heart of hearts, favors truly universal health care. He's said as much in the past—though in the next breath he's always added that it might take a while to get there. But the only thing he ever campaigned on was Obamacare. He unveiled his health care plan nine years ago almost to the day, and—well, let's roll the tape:
Obama's plan retains the private insurance system but injects additional money to pay for expanding coverage. It would also create a National Health Insurance Exchange to monitor insurance companies in offering the coverage. Those who can't afford coverage would get a subsidy on a sliding scale depending on their income, and virtually all businesses would have to share in the cost of coverage for their workers. The plan is similar to the one covering members of Congress.

Obama's package would prohibit insurance companies from refusing coverage because of pre-existing conditions. The plan doesn't have the mandate that rival Democratic candidate John Edwards is proposing to ensure that all Americans get coverage. The 2004 Democratic vice presidential nominee would require everyone to have health insurance, much like state requirements for auto insurance for every driver. Both candidates would require businesses to help cover their workers.
Obama was, by universal consensus, less ambitious on health care than either Hillary Clinton or John Edwards. He introduced his plan in 2007, he campaigned on it for the next 18 months, and it's quite close to what eventually got passed. The big difference is that the final version of Obamacare added an individual mandate, something that Hillary had in her plan from the start.
There are plenty of reasons to like Obama more than Hillary Clinton. I certainly do. But we all need to stay reality-based too. On domestic policy there was very little difference between Obama and Clinton during the 2008 campaign, and to the extent there was, it was generally Obama who was considered a bit more centrist. It was Obama who was the darling of Wall Street. His climate change plan was all but identical to Hillary's but included lots of happy talk about clean coal. Etc. etc.
This whole thing is crazy. Do people even remember the 2008 campaign? Obama was an inspirational speaker, for sure, but on policy matters he was a relentlessly pragmatic, mainstream Democrat. And that's how he's governed ever since he won. If you like Obama on domestic policy, it's really hard to see just what you'd have against Hillary. Their differences lie mostly in foreign policy instincts, and not anywhere else.