Fight disinformation:
Sign up
for the free
Mother Jones Daily
newsletter and follow the news that matters.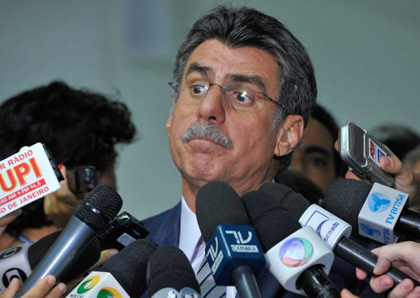 I haven't had much to say about the recent impeachment of Brazilian president Dilma Roussef, but today comes evidence that certainly makes it look ever more like a white-collar coup designed to keep a whole lot of people out of jail. When Roussef was impeached, vice president Michel Temer took over, and now Temer's right-hand man—planning minister Romero Juca—has gotten the plotters in some very hot water. For reasons that are a little fuzzy, Sergio Machado, a former oil executive, recorded a conversation he had in March with Juca:
The recordings were allegedly made secretly by Machado who, like Juca, is the target of an investigation into massive embezzlement centred on state oil company Petrobras.

In the conversations, Juca is heard calling for a "national pact" that he appears to suggest would stop the investigation, known as Operation Car Wash, in which dozens of top-ranking politicians from a variety of parties, as well as business executives, have been charged or already convicted for involvement in the Petrobras scheme.

In comments immediately taken up by Rousseff and her supporters as evidence for her claim that the impeachment process is a coup in disguise, Juca said: "We need to change the government to stop this bleeding."

"I am talking to the generals, the military commanders. They are fine with this, they said they will guarantee it," he said. He also said that he has been clearing his plans with justices on the Supreme Court, which oversees impeachment proceedings.
Juca says his comments are being taken out of context, which is what I'd probably say too if I were in his shoes. However, since the entire transcript of the conversation has been leaked to the newspaper Folha de Sao Paulo, that doesn't seem like a defense likely to hold water.
So why did Machado record this conversation? He's the former head of Transpetro, Brazil's largest oil and gas transport company, and is under investigation over his alleged involvement in the Petrobras scandal. From the BBC: "The newspaper alleges he recorded the conversations with a view to negotiating a plea bargain, wanting to exchange information implicating other suspects for a lower sentence."
No honor among thieves, I guess.