Fight disinformation:
Sign up
for the free
Mother Jones Daily
newsletter and follow the news that matters.
Data! You want data! Sure, Obamacare premiums are going up and so are the subsidies. But how much are the subsidies going up? The chart below—which I want everyone to look at because it was a pain in the ass to create—shows this for the 15 states with the highest premium increases: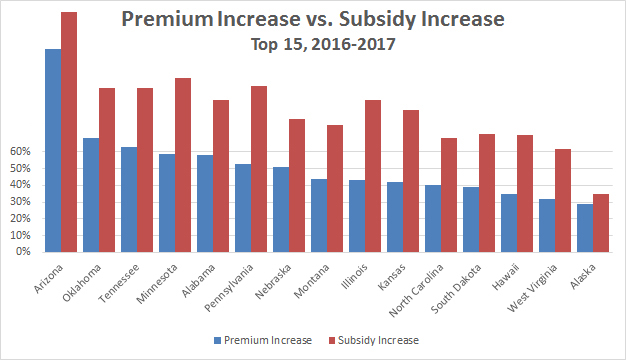 As you can see, subsidies are increasing more than premiums in every state—and by quite a bit. This comparison data is for a 27-year-old with an income of $25,000, and comes from Tables 6 and 12 here. (Arizona is literally off the chart: premiums increased 116 percent and subsidies increased 428 percent.) Here's the same chart for the 15 states with the smallest premium increases:
There are plenty of caveats here. Premiums and subsidies will be different for different kinds of households. Upper middle-class families don't get any subsidies at all. And this doesn't tell us what the average net increase is, once subsidies are accounted for.
However, it gives us a pretty good idea that for a substantial majority of Obamacare users, the net amount they pay for health insurance in 2017 isn't going to be much more than it was this year. For many, in fact, it will be the same. For those who shop around, it's quite likely to be less.
Bottom line: if your income is low enough to qualify for a subsidy, there's no need to panic over the Obamacare premium news. The higher premiums will help stabilize the market, and the cost will be covered almost entirely by Uncle Sam. Your pocketbook is safe.