Fight disinformation:
Sign up
for the free
Mother Jones Daily
newsletter and follow the news that matters.
Tax guru David Cay Johnston says he thinks he knows what Donald Trump's $916 million operating loss in 1995 was all about. The story starts when Trump's casino empire crashed in the early 90s, producing multiple business bankruptcies.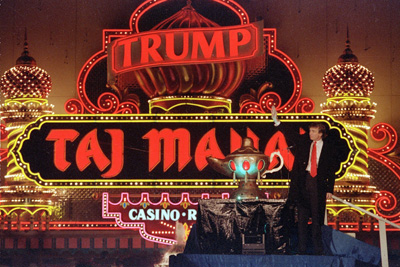 And because Trump had personally guaranteed about a billion dollars in loans, it nearly produced a personal bankruptcy too. Here's Johnston's theory of what happened next:
Trump threatened to tie his bankers in legal knots for years unless they forgave the loans that had been largely responsible for his operating losses in the first place. Eventually, he badgered them into agreeing.
But a forgiven loan is income, so this produced a billion dollars in taxable income for Trump that would have offset his $916 million in operating losses. What to do?
In 1995, Congress passed a law that allowed real estate professionals to trade the taxes on forgiven debt for future real-estate tax deductions.
This gave someone at Trump HQ a bright idea: why not use this trade to dump his tax obligation onto Trump's casino properties? Normally this would just be trading one tax obligation for another, so to get around that they advised Trump to take all his casino holdings and put them into a shiny new public company.
Here's the genius part. By trading away the taxes on his forgiven debt, Trump kept his $916 million operating loss. It was the new public company that got saddled with property that owed a lot more in taxes than it normally would.
Thousands of people invested in the company, and lost everything when Trump drove it into the ground. But as CEO, Trump paid himself $82 million along the way.
Isn't that great? Trump got $916 million in tax free income over the next decade. He shoveled a bunch of problem properties into a public company. He paid himself $82 million to run the company. And everyone who bought the stock took a bath.
In the end, there was one big winner: Trump. And three big losers: Trump's bankers, the American taxpayers, and all the investors in Trump's crappy public company. This is the business acumen that Trump says qualifies him to be president: not the ability to run a company profitably, but the ability to manipulate the legal system into letting him dump his debts onto other people. Trump 2016!