Fight disinformation:
Sign up
for the free
Mother Jones Daily
newsletter and follow the news that matters.
The short version: nothing has changed. The long version: nothing has changed.
Literally. The M-protein level that we track so assiduously has stayed at the exact same level for four months running. The exact same level down to the hundredth of a gram. I'm beginning to wonder if I'm just being humored and they're only pretending to do the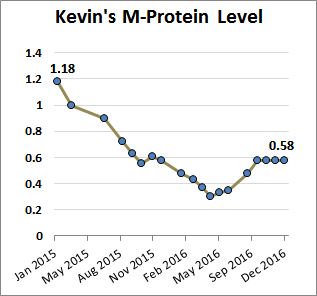 lab work. The guy is nuts about his M-protein level. Just mark down 0.58 and forget about it.
Everything else is stable and relatively normal too. My immune system is, of course, compromised by the chemo meds, but it remains in tolerably good condition. My red blood cells are fine. My platelet count is sometimes a little low, but not enough to be worried about. I go through weird cycles of fatigue (Friday was unusually bad, for example), but nothing close to what happened during the initial rounds of chemo. Mostly I just have to take naps more often than I used to. My neuropathy is annoying but seemingly fairly stable. And now that I'm off the evil dex, I'm no longer gaining weight. Sadly, I'm not losing it either. Even cancer can't kill off my weakness for chocolate.