Fight disinformation:
Sign up
for the free
Mother Jones Daily
newsletter and follow the news that matters.
Here's a headline over at Vox:
11 things to think about when you lose hope over the rise of white nationalism
The accompanying article is by Jenée Desmond-Harris. Her piece has some excellent correctives for anyone who thinks 2016 was nothing but a long slide backwards into racist hatemongering. Her examples include everything from Beyoncé performing "Formation" at the Super Bowl to the quadrupling of women of color in the Senate.
But I want to argue with the headline (which was probably not written by Desmond-Harris). Has there really been a "rise" in white nationalism? There's no question that neo-Nazis/white nationalists/alt-rightists have gotten louder this year. Nor is there any question that they've gotten a lot of media attention. Nor that they're big fans of Donald Trump. Nor that Trump rather unsubtly accepted their support. But does that mean they've actually become more numerous or more popular or more influential?
This is a real question, and I can't figure out how to get a handle on it. Unsurprisingly, nobody seems to conduct polls asking about support for white nationalism. Nor can I find any estimates about the current and past sizes of white nationalist groups. There are statistics for hate crimes, but they're tricky to use and aren't current anyway.
Other proxies aren't much better. Gallup has recorded a steady decline since the turn of the century in the number of people who want less immigration. Among the white working class, racial resentment scores on the American National Election Survey have been pretty stable for decades, though they ticked up slightly this year. White turnout was no higher in 2016 than it was in previous elections, which means there's little evidence for any kind of "white backlash."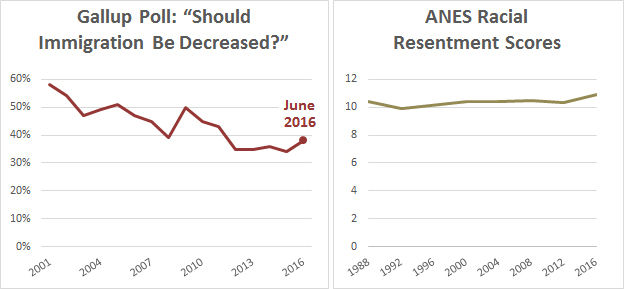 These are crude measures that might relate to broad racial animus but don't tell us anything specifically about white nationalists. The raw number of neo-Nazi types is probably so small that they don't even show up as a blip unless you're focusing solely on them.
The reason I bring this up is simple: If white nationalists aren't, in fact, growing either in numbers or influence, then there's not much reason to write about them in routine news reports. All we're doing is giving them the publicity they crave even though there's nothing especially newsworthy about them.
So are they? Does anyone know of any real evidence on this score?