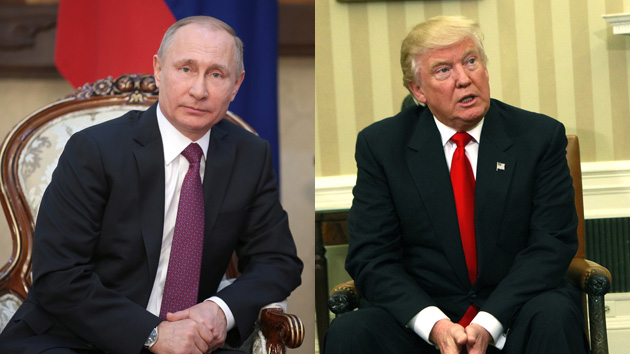 Fight disinformation:
Sign up
for the free
Mother Jones Daily
newsletter and follow the news that matters.
The New York Times reports today on new revelations about contacts between the Trump team and Russia during the last month of the Obama administration:
American allies, including the British and the Dutch, had provided information describing meetings in European cities between Russian officials — and others close to Russia's president, Vladimir V. Putin — and associates of President-elect Trump, according to three former American officials who requested anonymity in discussing classified intelligence. Separately, American intelligence agencies had intercepted communications of Russian officials, some of them within the Kremlin, discussing contacts with Mr. Trump's associates.
Some of this is coming to light as a result of deliberate efforts by outgoing Obama officials:
Mr. Trump has accused the Obama administration of hyping the Russia story line as a way to discredit his new administration. At the Obama White House, Mr. Trump's statements stoked fears among some that intelligence could be covered up or destroyed — or its sources exposed — once power changed hands. What followed was a push to preserve the intelligence that underscored the deep anxiety with which the White House and American intelligence agencies had come to view the threat from Moscow.

….Some officials began asking specific questions at intelligence briefings, knowing the answers would be archived and could be easily unearthed by investigators….At intelligence agencies, there was a push to process as much raw intelligence as possible into analyses, and to keep the reports at a relatively low level of classification to ensure as wide a readership as possible across the government….There was also an effort to pass reports and other sensitive materials to Congress.

….Throughout the summer…European allies were starting to pass along information about people close to Mr. Trump meeting with Russians in the Netherlands, Britain and other countries….But it wasn't until after the election, and after more intelligence had come in, that the administration began to grasp the scope of the suspected tampering and concluded that one goal of the campaign was to help tip the election in Mr. Trump's favor. In early December, Mr. Obama ordered the intelligence community to conduct a full assessment of the Russian campaign.
As the story acknowledges, it's still unclear what all these meetings were about, but "the Russians, it appeared, were arguing about how far to go in interfering in the presidential election."
This has the feel of a scandal that will pass into urban legend without anyone ever knowing for sure what actually happened. It's pretty obvious at this point that something happened, but with every new disclosure it seems as if the truth drifts a little farther out of reach. Unless someone has a smoking gun tape somewhere, it's not clear if this story will ever get resolved.