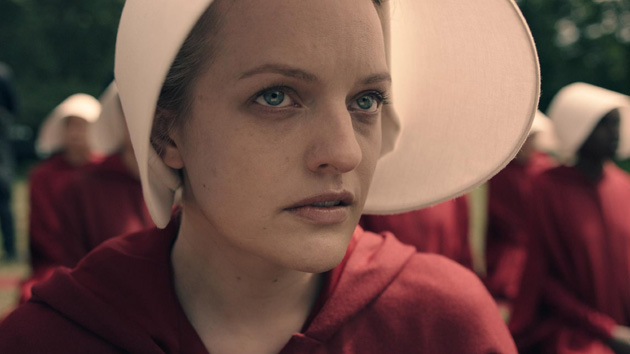 Fight disinformation:
Sign up
for the free
Mother Jones Daily
newsletter and follow the news that matters.
Below are excerpts from a baker's dozen reviews of Hulu's new adaptation of The Handmaid's Tale. Can you figure out what they all have in common?
New York Times: The television adaptation arrives with a newfound and unexpected resonance in Trump's America…."We were hoping to be relevant, but we weren't hoping it would be this relevant."
io9: It's incredibly difficult to watch The Handmaid's Tale and not be affected, to feel like we're so much closer to it being reality than when it was first written.
Washington Post: The phrase "now more than ever" has become a tiresome cliche in the past few months, but so what: "The Handmaid's Tale" is here and it demands our attention, now more than ever.
Hollywood Reporter: Hulu's The Handmaid's Tale may be the most unintentionally timely show of the year.
Entertainment Weekly: Their performances — and the show's consistent sense of textural, lived-in realism — anchor the drama in something beyond speculative sci-fi, making the story feel less like a quasi-fictional fable than an entirely possible preview of what's to come.
Wall Street Journal: You can't quite call it a bad dream come true, not yet. But given what might be termed "recent events," it's certainly cautionary, and more than urgent.
The Economist: As the Trump administration continues to cut funding and roll back family-planning services, it is easy to hear echoes of its rhetoric on the screen.
Vogue: Could the timing be any more apt?
TV Guide: The show and its source material feel more timely and relevant than ever….With women's rights again on the chopping block under a Trump administration, and a common refrain from critics on the left to resist normalizing Trump, it's difficult if not impossible not to draw parallels between the show and real-life events.
Deadline Hollywood: If ever a television series could border on being too relevant, Hulu's gripping, chilling and brutal adaptation of The Handmaid's Tale, which launches with its first three episodes on April 26, would be the one.
Huffington Post: Whether the show sets out to directly compare its dystopian themes with today's political climate, for some readers ? and for the story's author ? the similarities are ripe for picking.
Vanity Fair: All dystopias are meant as cautionary tales. But at this particular moment in time—one marked by a powerful but misguided nostalgia, and religious zealotry, and an increasing sense that paranoia is justified, with the powers that be seemingly determined to chip away at the rights of women—The Handmaid's Tale feels especially current, cutting, and vital.
Harper's Bazaar: You won't see a more timely or essential onscreen story this year than Hulu's extraordinary rendering of Margaret Atwood's 1985 novel The Handmaid's Tale, reimagined as a fundamentalist nightmare for the Mike Pence era….Like all the best dystopias, Gilead is not a truly fictional world, and The Handmaid's Tale is not a dark fantasy. It's a warning.