Fight disinformation:
Sign up
for the free
Mother Jones Daily
newsletter and follow the news that matters.
When I first saw this picture, I figured it was just a dumb Photoshop and skipped on by. But no. This is real: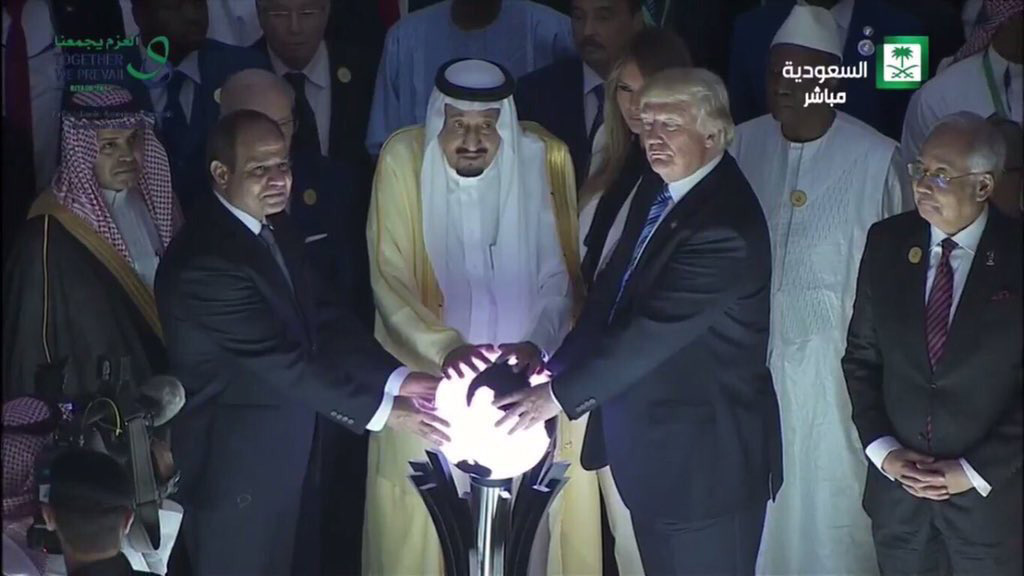 King Salman seems genuinely fascinated by this modern miracle. El-Sisi obviously doesn't give a shit and is just being polite. Trump looks like he's trying to commune with Sauron. Naturally this turned into a huge Twitter meme instantly, and I imagine we're going to be seeing this picture around for years.
The advance work on this trip is hilarious:

Sword dance, all-male Toby Keith concert, secret Tillerson press conference, magic globe, …

— Matthew Yglesias (@mattyglesias) May 21, 2017
"Elites scoff, but in the working class suburbs of Grand Rapids voters are glad Trump is practicing orb magic with Arab dictators."

— Matthew Yglesias (@mattyglesias) May 21, 2017
And contrary to what I reported earlier, it turns out that Trump didn't quite manage to recite today's speech off the teleprompter correctly. He was apparently so nervous about the whole radical Islamic terrorism vs. violent extremism vs. Islamist extremism thing that he blew it:
Asked about line in speech today when Trump said Islamic instead of Islamist, a senior White House official said: "He's an exhausted guy."

— Jeff Zeleny (@jeffzeleny) May 21, 2017
Trump had been in Saudi Arabia for about 36 hours at that point. Only 150 hours to go.
UPDATE: ZOMG! The full picture of Trump and the orb might be even more awesome than the cropped shot.