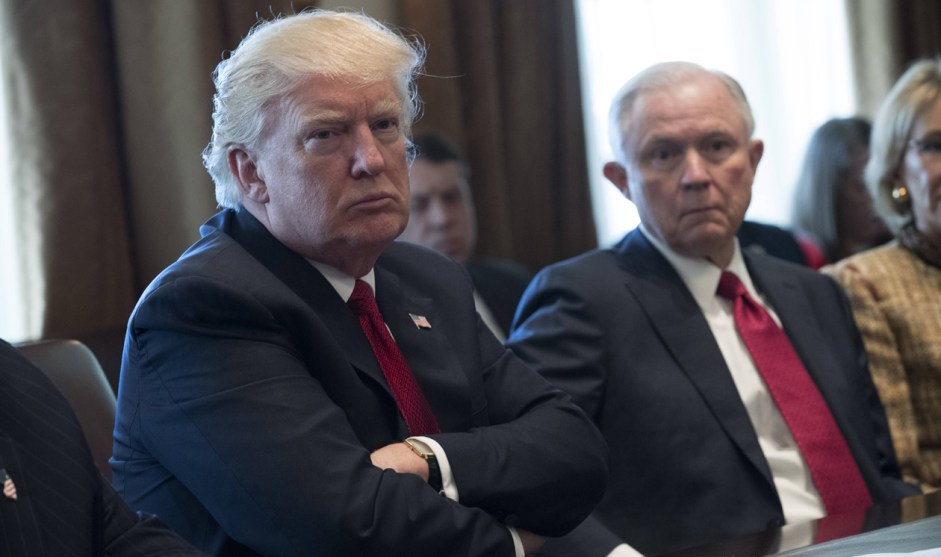 Fight disinformation:
Sign up
for the free
Mother Jones Daily
newsletter and follow the news that matters.
Ezra Klein notes this morning that President Trump has turned on some of the people who were among his earliest and staunchest supporters:
Attorney General Sessions was one of Trump's earliest, staunchest supporters. On the night Trump won the election, he singled out Sessions for special praise. He thanked Sessions for being "the first man, first senator, first major, major politician" to endorse him, going on to say Sessions was "highly respected in Washington because he's as smart as you get."

….During the campaign, Priebus was among Trump's most consequential allies….No matter what Trump said, or what Trump did, Priebus kept the RNC in his corner, and, once Trump had won the nomination, turned it into the campaign machinery Trump had never bothered to build.
I don't think this is just a coincidence. I'm averse to grand theories of Trump, but two things that are obvious about him are (a) he's ultrasensitive about how narrow his victory was and (b) he doesn't like to share credit with others. James Comey was a daily reminder that a lot of people think Trump won only because Comey's last-minute letter sank Hillary Clinton, so Comey had to go. A lot of people credit Reince Priebus with keeping Trump viable during the primaries, so Priebus had to go. A lot of people think Jeff Sessions was instrumental in bringing evangelical support on board early in the campaign, so Sessions has to go. Trump hasn't yet fired Steve Bannon, a guy who gets a lot of credit for turning around the Trump campaign during the summer, but I wouldn't be surprised if he does eventually. This is probably one reason that Bannon keeps such a low profile. The last thing he wants is more magazine covers praising him as "Trump's Svengali" or somesuch.
Back in his real estate days, Trump's staff was essentially invisible—and nobody cared about them anyway. Trump never had to share credit with anyone. But Washington plays by different rules, and that drives Trump crazy. There's not much he can do about it except to fire anyone who helped him win, so that's what he's doing.