For her senior thesis, Berkeley economics major Alice Wu decided to evaluate the conversations in a web forum called Economics Job Market Rumors. All posts in this forum are anonymous, so everyone can let their hair down and say whatever they feel like. Wu's paper lists the top words associated with conversations about women and the top words associated with conversations about men. Here they are: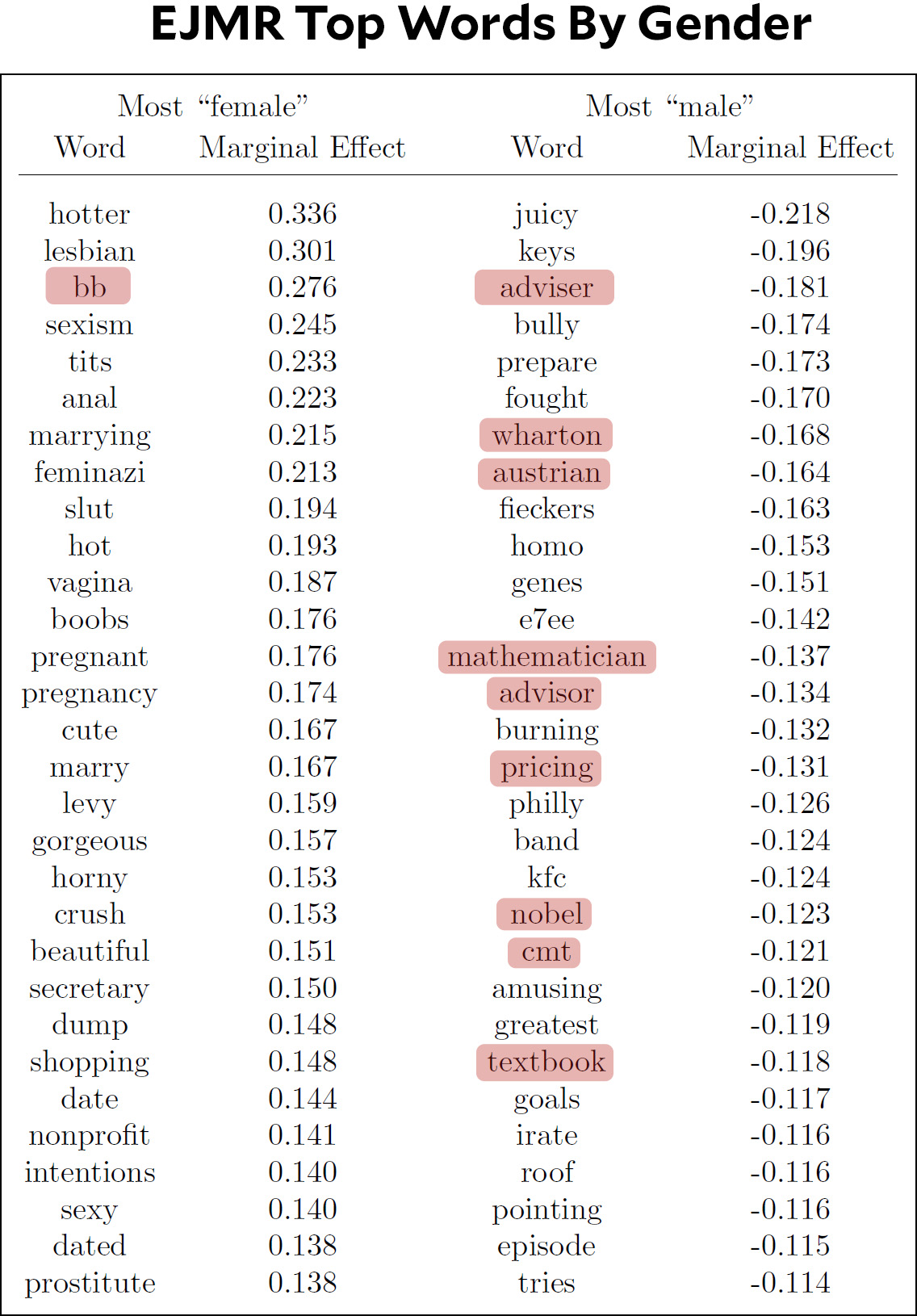 Among the top words that predict a conversation about men, about a third are clearly related to economics. For women, it's close to zero percent. Elsewhere in the paper, Wu shows that conversations about men contain more academic and professional words, while conversations about women contain more words related to physical and personal attributes. As Berkeley economist David Romer put it, the paper reveals "a cesspool of misogyny."
As you might expect, the EJMR community is unhappy about all the attention they're now getting. The conversations range from criticism of the mechanics of Wu's paper ("I'm tempted to use it my class an example of what not to do when designing research when the dust settles down") to juvenile racist and sexist comments.
The juvenile crap at EJMR is most likely not the work of economists, though. As an anonymous forum, anyone can sign up and post anything they want—and apparently EJMR has pretty lax moderation. This means that the forum has long been infiltrated by random flamers and other idiots: "EJMR is at least 50% trolls from Reddit and other parts of the internet that want a cool place to hang out," says one commenter. "These people are not economists and are not representative of the profession. lol @ the thought Wu would get any harassment from any economists. If she gets a single email it will be from a Redditard troll."
One criticism of the paper, then, is that it has no way to distinguish between the comments of serious users and the comments of flamers. That said, a lot of EJMR posters have noted that nobody should be surprised by the results of the paper. For example:
Just skimmed the paper. Compelling in that it shows this website is a cesspool… But we already knew that. What it says about the profession as a whole is less clear. It's an undergrad thesis, folks. Let's be nice- it's a good exercise in data collection and simple textual/statistics analysis.
How are people so dense. Of course this place is, on average, a cesspool of racism, misogyny, etc. However, does anyone really think this is a representative sample that can be used to make inferences about the broader population of economists. The paper even states such, but EVERYONE is glossing over that fact. And the fact that well-known economists are selling this as "path breaking" demonstrates how dishonest those at the "top" of our profession are. The correct conclusion is, "EJMR is on average a cesspool. However, the results with respect to the broader profession of economics given the non-random selection of users who frequent EJMR. Basically, results that mean nothing." But let me be clear, that in no way is an attempt to excuse the dirtbags that do in fact post horrible trash in this forum.
This gets at one of the most consistent themes on EJMR: long, ranty posts about the tyranny of HRMs ("high-rank monkeys," i.e., economists from top programs) in the economics profession. For example:
Fat Broette economist here….Yes, there's a lot of misogyny here. When I post here I don't identify as female because of the usual trolls and I think quite a few Broettes do this as well. This is the downside of EJMR.

The anonymity of EJMR does give me the freedom to voice my opinion, which I feel I can't really do in the real world. In my opinion, the profession has a bigger problem of HRM vs. LRM. Look how the HRMs had a show of force for Reinhart and Rogoff when they had their Excel scandal. According to them, only HRMs are able to come up with innovative ideas. Heaven forbid an LRM much less a female LRM challenges the status quo. We are shut out of the top journals because of this. f**king wankers.
One particular HRM who comes in for a lot of abuse is Justin Wolfers, who brought this paper to wider attention at the New York Times. For example, there's this: "When people try to glorify a poorly done research with an article on the NYT, it misleads a whole bunch of people who cannot see through the nuances in the study." And this: "Does Wolfers take Internet polls as valid too?" And this: "Wolfers is a total douchebag."
In the end, my guess is that what this paper shows is simple: economics is like any other profession dominated by men. The EJMR forum appears to be about 75 percent male, and it sometimes degenerates into locker room talk.¹ It's not clear how often this happens, but often enough. The next couple of weeks are likely to be painful for EJMR, but they'll come out of it all right if they eventually figure out that Wu's paper isn't an attack on men, just a useful reminder that we should all try to do better.
¹That is, actual locker room talk, not the stuff Donald Trump does.