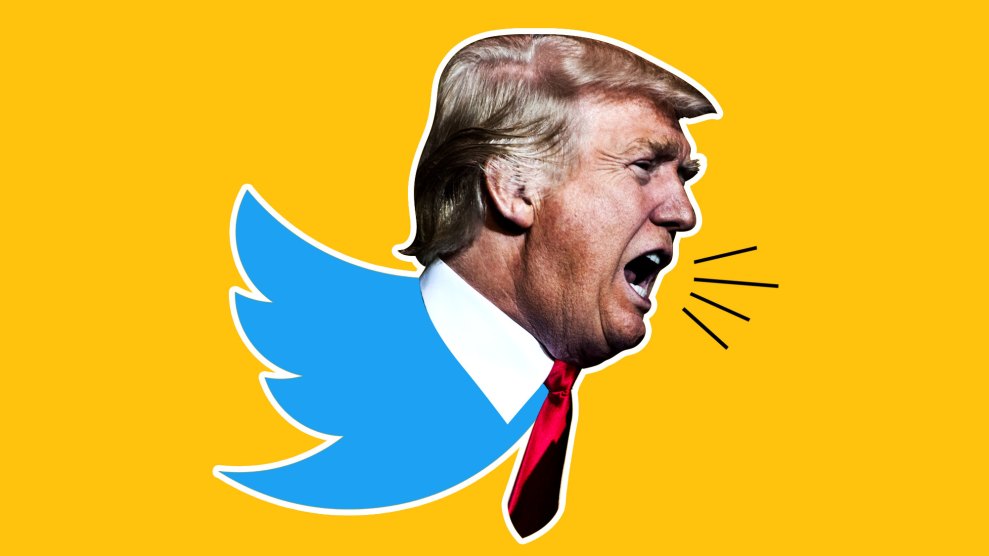 Facts matter:
Sign up
for the free
Mother Jones Daily
newsletter.
Support
our nonprofit reporting.
Subscribe
to our print magazine.
Setting aside media folks and American politicians—who are nearly daily targets—here are all the people Donald Trump has personally attacked on Twitter since his inauguration. Do you notice anything demographically peculiar?
 

Ungrateful TRAITOR Chelsea Manning, who should never have been released from prison, is now calling President Obama a weak leader. Terrible!

— Donald J. Trump (@realDonaldTrump) January 26, 2017

 

Yes, Arnold Schwarzenegger did a really bad job as Governor of California and even worse on the Apprentice…but at least he tried hard!

— Donald J. Trump (@realDonaldTrump) February 3, 2017

 

At least 7 dead and 48 wounded in terror attack and Mayor of London says there is "no reason to be alarmed!"

— Donald J. Trump (@realDonaldTrump) June 4, 2017

 

Now that Ken Frazier of Merck Pharma has resigned from President's Manufacturing Council,he will have more time to LOWER RIPOFF DRUG PRICES!

— Donald J. Trump (@realDonaldTrump) August 14, 2017

 

Going to the White House is considered a great honor for a championship team.Stephen Curry is hesitating,therefore invitation is withdrawn!

— Donald J. Trump (@realDonaldTrump) September 23, 2017

 

If a player wants the privilege of making millions of dollars in the NFL,or other leagues, he or she should not be allowed to disrespect….

— Donald J. Trump (@realDonaldTrump) September 23, 2017

 

With Jemele Hill at the mike, it is no wonder ESPN ratings have "tanked," in fact, tanked so badly it is the talk of the industry!

— Donald J. Trump (@realDonaldTrump) October 10, 2017

 

The Fake News is going crazy with wacky Congresswoman Wilson(D), who was SECRETLY on a very personal call, and gave a total lie on content!

— Donald J. Trump (@realDonaldTrump) October 20, 2017

 

Wacky & totally unhinged Tom Steyer, who has been fighting me and my Make America Great Again agenda from beginning, never wins elections!

— Donald J. Trump (@realDonaldTrump) October 27, 2017

 

While not at all presidential I must point out that the Sloppy Michael Moore Show on Broadway was a TOTAL BOMB and was forced to close. Sad!

— Donald J. Trump (@realDonaldTrump) October 28, 2017

 

Now that the three basketball players are out of China and saved from years in jail, LaVar Ball, the father of LiAngelo, is unaccepting of what I did for his son and that shoplifting is no big deal. I should have left them in jail!

— Donald J. Trump (@realDonaldTrump) November 19, 2017

 

Marshawn Lynch of the NFL's Oakland Raiders stands for the Mexican Anthem and sits down to boos for our National Anthem. Great disrespect! Next time NFL should suspend him for remainder of season. Attendance and ratings way down.

— Donald J. Trump (@realDonaldTrump) November 20, 2017