Jesse Lee is unhappy:
Trump and Zinke doubling National Park fees to an insane $80 per vehicle is one of the most underreported outrages of the Administration. That price is essentially unaffordable to most families in this country. Then they took those jacked up fees & gave the money to billionaires. https://t.co/Dzs2dsEQrF

— Jesse Lee (@JesseCharlesLee) January 17, 2018
Naturally, I got curious. Is this truly outrageous? I wanted to find out, but it turns out that the history of automobile fees at national parks is surprisingly hard to get a handle on. Every park is different and there are lots of different kinds of fees (single visit, annual, all-park passport, etc.). Eventually I gave up and limited my scope to Yosemite, which acts as sort of a bellwether for park fees (Yosemite and Yellowstone have always had the highest vehicle fees in the national park system). I can't guarantee that this chart is completely accurate, but I think it's pretty close: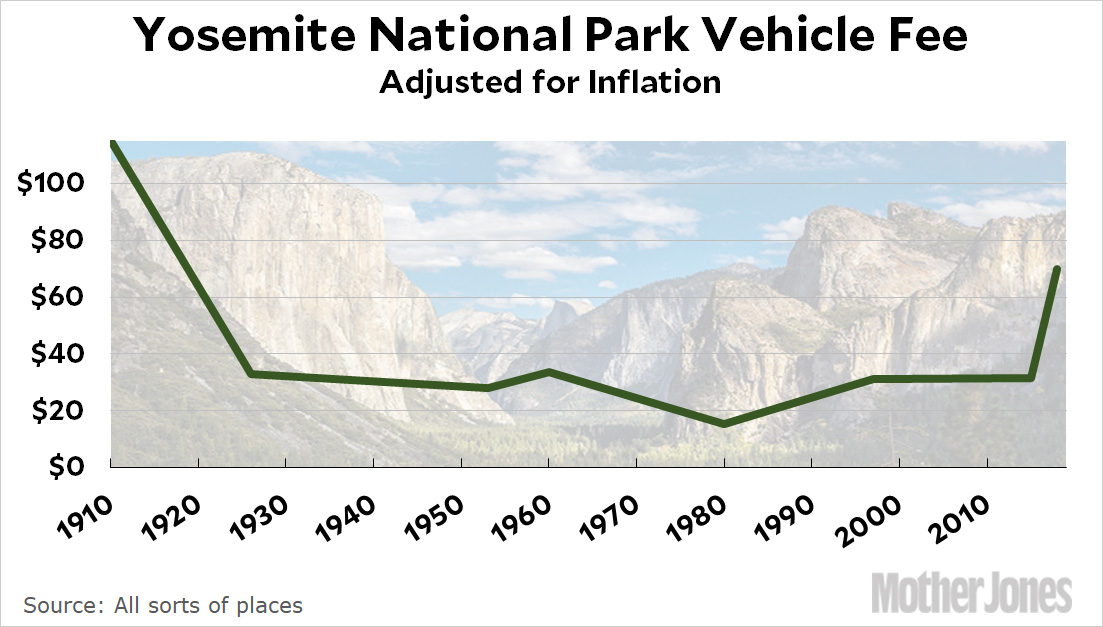 Long story short, yes, it's outrageous. The orginal $5 fee (about $115 adjusted for inflation) was set sort of haphazardly back when cars were a rich man's toy, but for the past century the vehicle fee at Yosemite has hovered around $30 or so in current dollars. The most recent increase, in 2015, kept vehicle fees right in line with inflation, but the Trump administration's proposal would more than double that to $70 during peak seasons. About a dozen other parks are also affected, and presumably this would represent an even bigger increase since most of them have historically had lower vehicle fees than Yosemite.
As I was checking up on this, I skimmed through a monograph on the history of park fees and read several newspaper articles about past fee increases. They are all identical. On one side are folks who want the Park Service to generate more revenue to cover its costs, and on the other side are folks who think that fee increases will put national parks out of reach for anyone who's not rich. The current debate is precisely the same. The only difference is that this time the proposed increase really would set park fees far higher than they've been for nearly a century.
POSTSCRIPT: The answer to the headline of this post is "Yes." I did that just to prove that Betteridge's law of headlines is more like a guideline than an actual law.