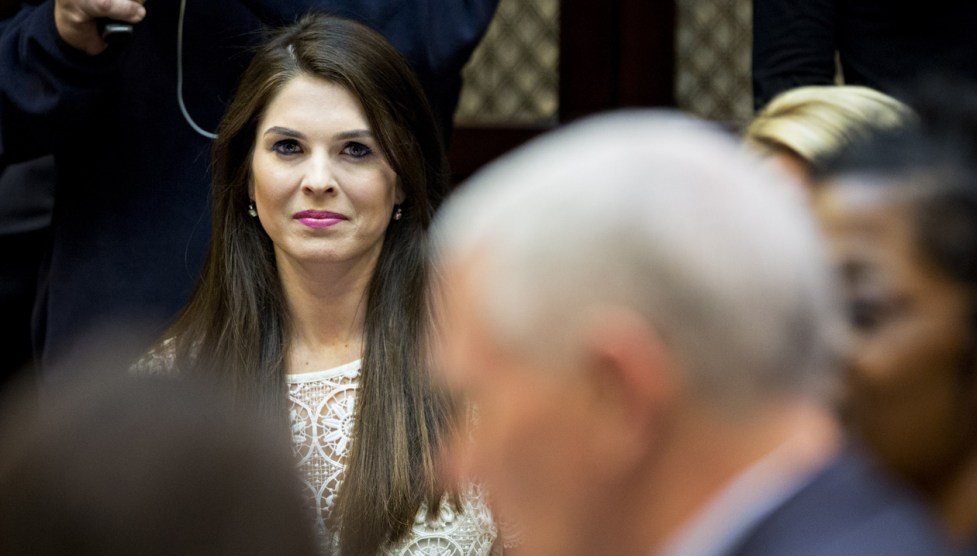 Fight disinformation:
Sign up
for the free
Mother Jones Daily
newsletter and follow the news that matters.
Many of us thought that Hope Hicks would be the last person standing in the Trump administration, going down with the ship like Ron Ziegler.¹ But no:
Hope Hicks, the White House communications director and one of President Trump's longest-serving advisers, said Wednesday that she plans to leave the White House in the coming weeks….Her resignation came a day after she testified for eight hours before the House Intelligence Committee, telling the panel that in her job, she had occasionally been required to tell white lies but had never lied about anything connected to the investigation into Russia's interference in the 2016 election.

Multiple White House aides said that Ms. Hicks's departure was unrelated to her appearance before the committee. They said that she had told a small group of people in the days before the session that she had planned to leave her job.
I'm sure it's true that her departure isn't directly due to the questioning she underwent yesterday. At the same time, the Cyrillic script has been on the wall for a while. I'd be surprised if she didn't decide some time ago that she should get out while the getting was good and her reputation was still intact. She probably knows as well as anyone that there's a lot more for Mueller to find.
So: aside from family, are there any senior White House aides from Trump's first day in office who are still around? Yes! It's a little tricky deciding who's really "senior" in Trump's inner circle, but here's my slightly idiosyncratic list. The names in bold are still around:
Hope Hicks
Keith Schiller
Steve Bannon
Stephen Miller
Reince Priebus
Katie Walsh
Rob Porter
Sean Spicer
Don McGahn
Kellyanne Conway
Gary Cohn
Dina Powell
Michael Flynn
KT McFarland
Mick Mulvaney
Marc Short
Ten out of 16 have departed. That's a pretty remarkable attrition rate.
¹Ron Ziegler was Richard Nixon's press secretary, famous for—oh forget it. It doesn't matter.