Tonight I read this at the Washington Post:
Main Street has been watching prices rise for a while. Now Wall Street has taken notice.

Wherever Bob Humphreys looks, things are getting more expensive. The chief executive of Delta Apparel, a Greenville, S.C., clothing maker, sees higher costs at every link in a multinational supply chain: Raw materials, such as cotton; energy to run his factories; transportation to move his goods to market — all are getting pricier. With higher wages looming, he's passing on some of those extra costs by raising prices on Delta Apparel's plain and decorated T-shirts and fleeces.

"Clearly, there is inflation in the apparel delivery system right now," Humphreys told investors on a recent call. "So there's definitely cost increases coming."
Since I'm on an inflation kick right now, I immediately dismissed this as hogwash. This Humphreys guy can blather about what he "sees" all he wants, but the numbers don't lie. And the numbers say that inflation remains pretty low. I even went to the trouble of looking up not the usual CPI inflation numbers, but the Producer Price Index just to prove it: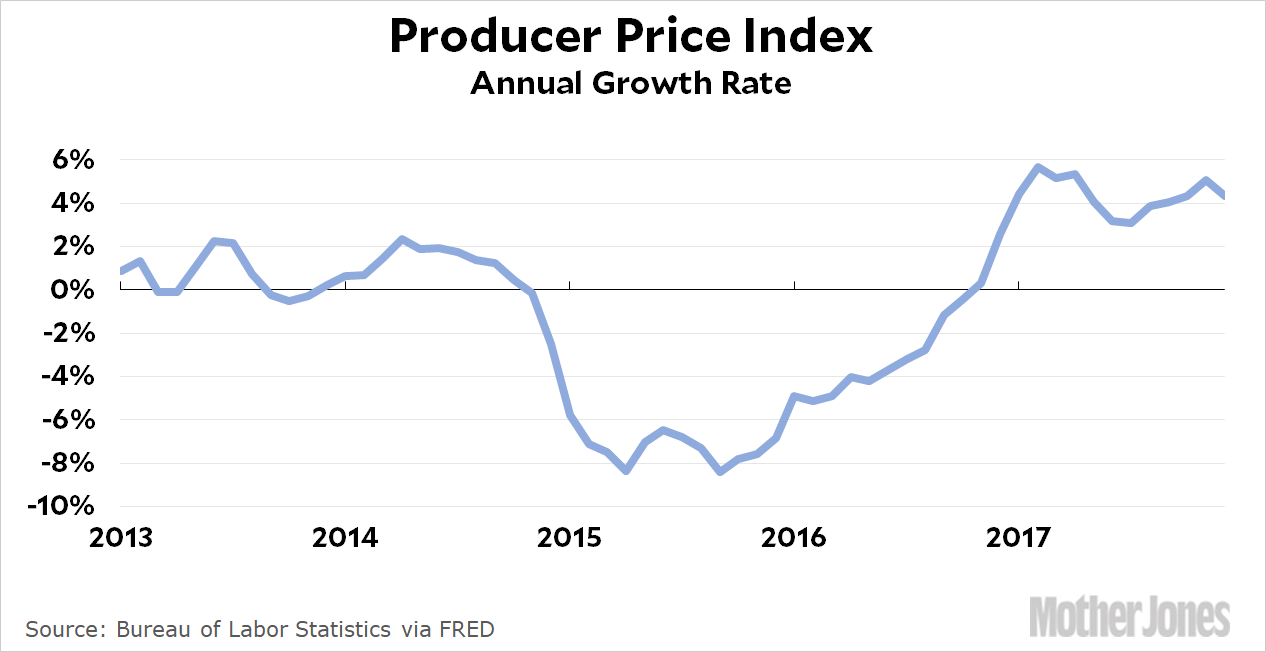 Oops. It turns out that PPI has been running at 4-6 percent all year. That's high! It's mostly making up for substantial deflation in 2015-16, but still. Prices for manufacturers really are going up substantially.
But then, just to be extra careful, I took a look at the PPI for textiles, since that's the industry Humphreys works in: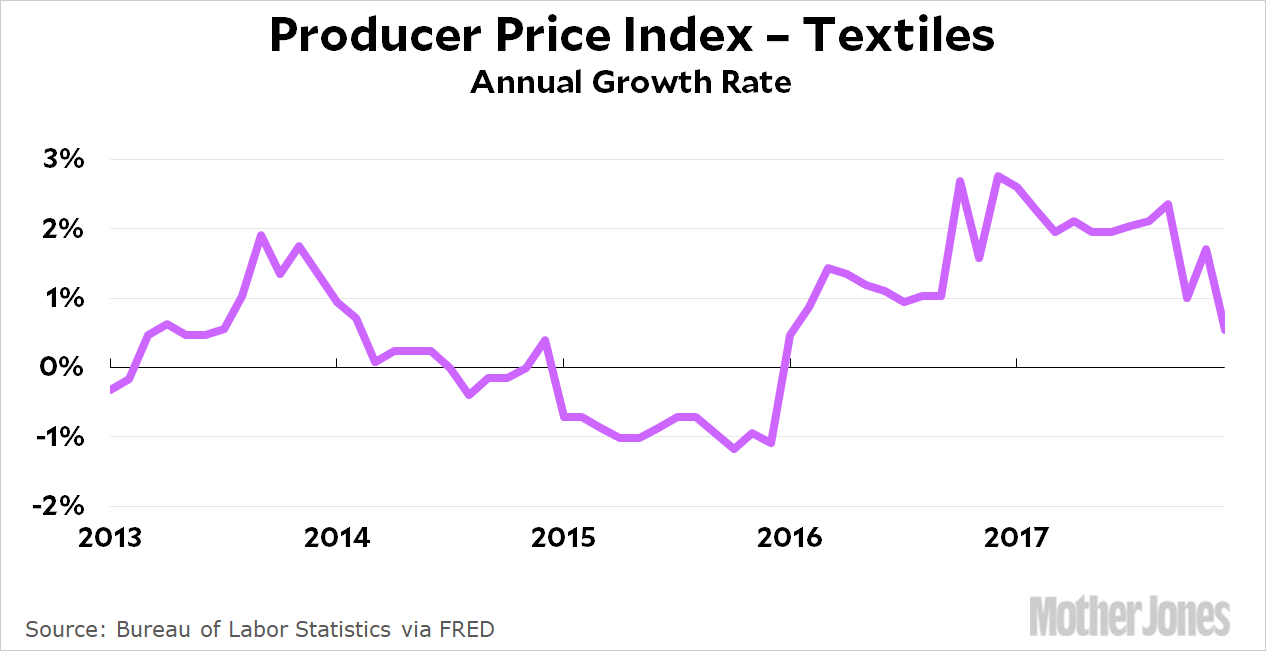 That's weird again. PPI is up in general, but it turns out that in the textile biz it's been running at a moderate 2 percent since March, and has dropped to around 1 percent for the past several months.
So I don't know what Humphreys is seeing. The high PPI numbers might be a concern, but in the textile industry, with the exception of five months early this year, price increases have been below 2 percent for the past five consecutive years.
But what about wages, which is what everyone on Wall Street is allegedly freaked out about lately?
In nominal terms, wages have been rising at a steady annual rate of about 2.6 percent for the past two years. There was some acceleration in 2015, but none since then, and in real terms wage growth has been between 0-1 percent for the past year. That doesn't seem especially scary to me.
All things considered, I think I'm going to revert to my initial stance: inflation is pretty restrained everywhere, and there's no special reason to think it's about to burst its surly bonds. Maybe it will, and then everyone can point and laugh at me, but why worry about it prematurely? It's always possible that inflation is about to spiral out of control, after all. So instead of being in a perpetual panic, why not just wait until the data suggests there really is something going on?