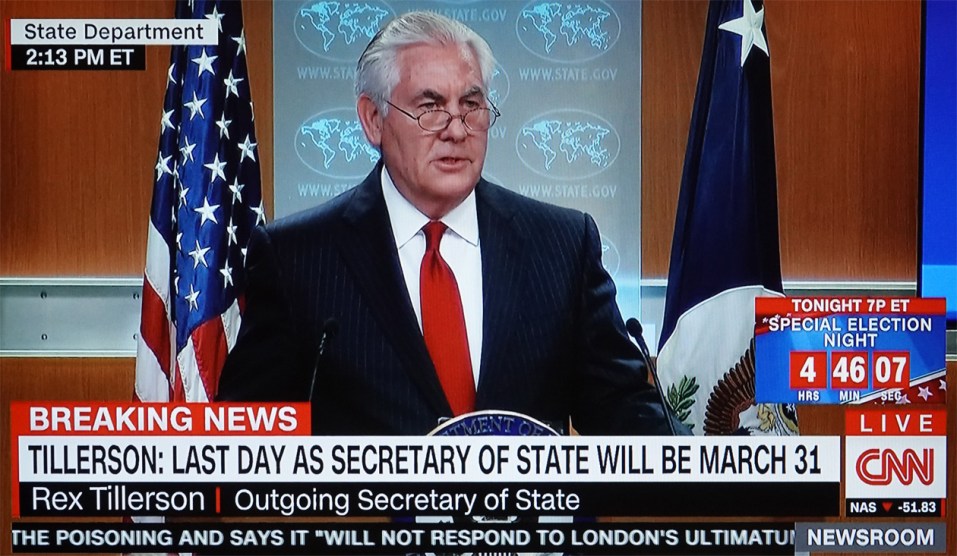 Fight disinformation:
Sign up
for the free
Mother Jones Daily
newsletter and follow the news that matters.
We've now heard from Rex Tillerson. In a wavering voice, he held a press briefing in which he thanked everyone for their contributions over the past year. He thanked State Department workers. He thanked Defense Secretary James Mattis. He literally thanked all 300 million Americans.
Except for Donald Trump. He didn't thank Donald Trump.
Anyway, it's tough to know how to react to the Tillerson firing. On the one hand, he was completely incompetent and presided over a gutting of the foreign service corps. On the other hand, he at least tried to rein in Trump's worst instincts. Mike Pompeo sure isn't going to do that. And now Pompeo will be replaced at the CIA by a career officer who was in charge of torturing prisoners during the Bush administration.
Before we all move on because surely crazier things will happen yet today, pause briefly on the record of Gina Haspel, Trump's choice for CIA director. The torture she oversaw was unspeakable. 1/ https://t.co/HHKHCehzP0

— Monika Bauerlein (@MonikaBauerlein) March 13, 2018
And while we're on the subject, remember this from last October?
"I have never considered leaving this post," Tillerson said from the State Department's lavish Treaty Room….The statement followed a report by NBC News that Tillerson openly mocked the president, calling him a "moron" following a July 20 meeting at the Pentagon with top Trump officials.

….One US official expressed confidence in Tillerson's status due to a so-called "suicide pact" forged between Defense Secretary James Mattis, Treasury Secretary Steven Mnuchin, and Tillerson, whereby all three cabinet secretaries vow to leave in the event that the president makes moves against one of them.
First off, Tillerson called Trump a "fucking moron."¹ Let's keep that straight. Second, I guess the suicide pact is no longer operative. Mnuchin and Mattis still seem to be around.
Finally, in other news, Donald Trump's personal aide John McEntee has also been fired. Why? According to CNN, it's "because he is currently under investigation by the Department of Homeland Security for serious financial crimes." He was immediately hired as a senior advisor for the Trump 2020 campaign. I guess they don't care about serious financial crimes there. In fact, it's probably a plus on your resume.
Oh, and as I mentioned earlier, the #4 guy at the State Department has also been fired. His crime was telling the truth that Tillerson had no idea why he had been fired.
This has been quite a day for firing people. Apparently H.R. McMaster is next, but perhaps Trump is planning to wait until next week.
¹Tillerson has never denied saying this, but he's never admitted it either. Now that he's been fired, I wonder if he'll open up a bit about just how big a moron Trump is?