GM is cutting back production:
General Motors said Monday that it planned to idle five factories in North America and cut several thousand blue-collar and salaried jobs in a bid to trim costs. The action follows similar job-cutting moves by Ford Motor in the face of slowing sales and a shift in consumer tastes, driven in part by low gasoline prices.

….The plants include three car factories: one in Lordstown, Ohio, that makes the Chevrolet Cruze compact; the Detroit-Hamtramck plant, where the Chevrolet Volt, Buick LaCrosse and Cadillac CT6 are produced; and its plant in Oshawa, Ontario, which makes the Chevrolet Impala. In addition, transmission plants in the Baltimore area and in Warren, Mich., are to halt operations.
Part of this is due to Trump's steel tariffs, which have raised the price of cars and trucks, but mostly it's due to changing tastes brought about by a big drop in gasoline prices in 2015: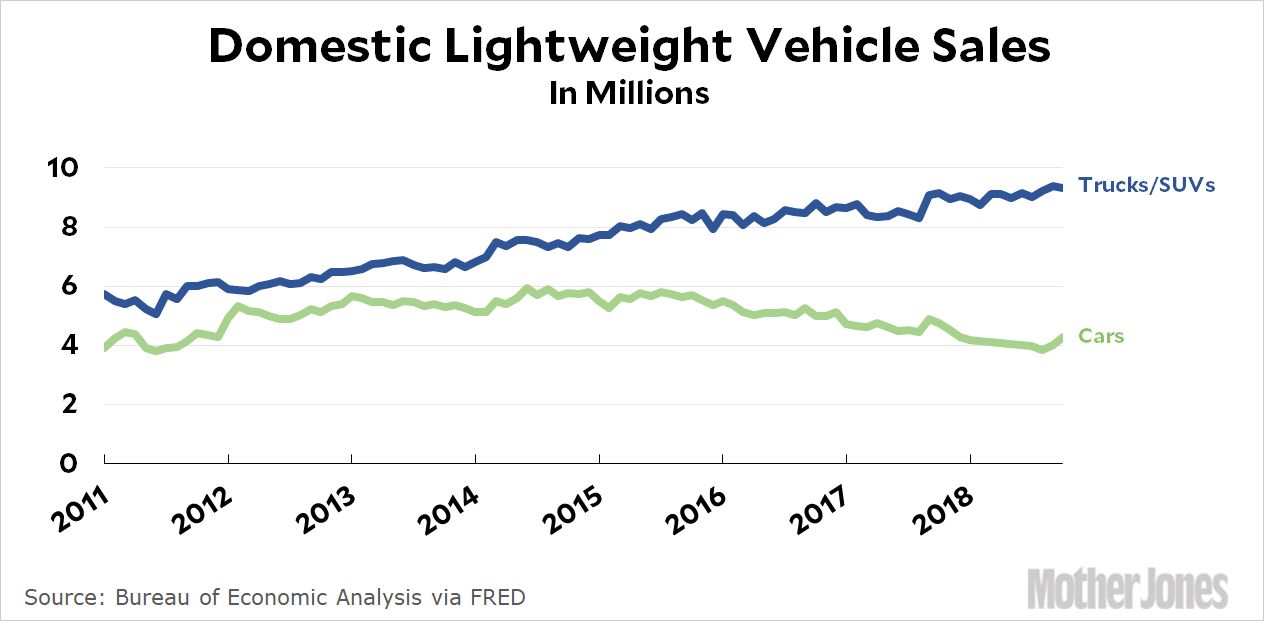 As you can see, domestic auto sales were doing OK up through mid-2014. Then, over the next 18 months, gasoline prices plunged from $3.70 to $2.20 and Americans did what they always do: abandoned gas-friendly autos and went on an SUV binge. Today, trucks and SUVs outsell cars by more than 2 to 1, which is why auto plants are being closed. At the same time, total vehicle sales aren't exactly on fire either:
The average sales level has dropped by about a million units since 2015. This isn't disastrous, but it's hardly what you'd expect in a booming economy, either. The result is plant closures and, before long, the end of virtually all domestically produced cars. The next time gasoline prices rise—and they will, someday—American car companies will have nothing but big piles of unwanted, gas-guzzling SUVs that nobody wants.