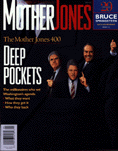 THE MOTHER JONES 400
America's political contributors work in the shadows. Here we cast some light.
---
FEATURES
He's still drawn to the darkness on the edge of town, still seeking a son's revenge.
What does a shrimp dish in Manhattan have to do with mangrove tree in Ecuador?

Who We Kill


Gun stats show that you're more likely to shoot yourself than an attacker.
---
Cover illustration by Nick Dewar
Photograph of Newt Gingrich by Gary Boas/AdMedia/Newscom