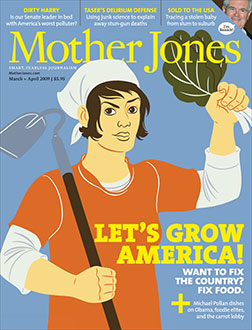 Let's Grow America
---
FEATURES
Trading Up
By Kevin Drum
How Obama can fix the climate, give clean tech a boost, and send you a fat check

Gold Member
By Josh Harkinson
Why does Senate majority leader Harry Reid let the mining industry get the gold while taxpayers get the shaft?

Meet the Parents
By Scott Carney
A Midwestern kid's family believes his birth parents put him up for adoption. An Indian couple claim he was kidnapped from them and sold. Who's right?
Out of Mind, Out of Sight
Photographs and text by Eugene Richards
Inside the psychiatric hospitals the world forgot
As a public service, Mother Jones, which is a nonprofit magazine, will release the full contents of this issue online over the next several weeks. If you'd like your Mother Jones sooner—and you want to support independent investigative journalism—please subscribe now.
DEPARTMENTS
OUTFRONT
Old Newt's new tricks; Obama: hypnotist in chief?; Thrilla in Manila, Part 2; Taser: Don't sue me, bro; rites of spring vs. righteous spring; Blackwater goes to Africa; wake up and smell the arbitration clause
EXHIBIT
By Dave Gilson
Schumer, squirrels, interns, debutantes: who wins and who loses in the bailout economy
MEDIA JONES
Kathryn Joyce on the popular author who teaches that meek wives are blessed, plus more book( Blank Spots, The Lottery Wars, Picking Cotton: Our Memoir of Injustice and Redemption, Brush Cat ), film( Food, Inc. ), and music( Habeas Corpus, It's Not Me, It's You, Goodnight Oslo, Welcome to Mali ) reviews
MOJO INTERVIEW
By Eamon Kircher-Allen
Somali-born rapper K'naan talks about pirates, thugs, and kids with guns
By Justine Sharrock
Dave Eggers' oral fixation
By Kiera Butler
New Pornographer Neko Case
PRACTICAL VALUES
By Daniel Duane
Is your farmers market a farce?
---
Cover illustration by Nick Dewar
Photograph of Newt Gingrich by Gary Boas/AdMedia/Newscom