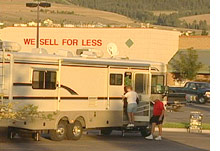 Fight disinformation:
Sign up
for the free
Mother Jones Daily
newsletter and follow the news that matters.
This Is Nowhere explores the zany, postmodern subculture of travelers who wander the country in RVs, camping in Wal-Mart parking lots. You heard right: camping at Wal-Mart. About 7 million Americans roam the country in motor homes and trailers. Wal-Mart, evidently, has smelled their purchasing power — and welcomed them to overnight in store parking lots, secure in the knowledge that money not spent at a KOA often ends up in their cash registers.
The film allows the RV-ers at a Wal-Mart in Missoula, Montana, to speak for themselves, and the result is 87 minutes of raw, sometimes hilarious, sometimes disturbing commentary about contemporary American values. We meet a gold miner, a former NASA engineer, and a retired Sears promotions manager who marvels at being able to exchange endlessly (10 times and counting) defective Wal-Mart canvas sneakers and memorably recounts burying his dead cat in a Wal-Mart parking lot in Mexico.
The campers express similar motivations: wanderlust and a desire to see the natural beauty of America. Indeed, the backdrop for the film is the forested skyline of the Sapphire Mountains. Punctuating the irony of the RV-ers' journeys from one identical box store to another, however, the film ends with a montage of Missoula's strip culture, which might as well be Anywhere — or Nowhere — USA.