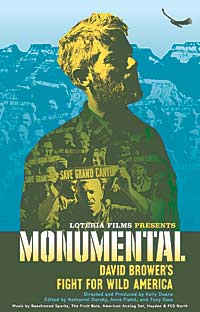 Fight disinformation:
Sign up
for the free
Mother Jones Daily
newsletter and follow the news that matters.
David Brower might be the most important American
conservationist since John Muir, and Monumental documents
his crusades.
Rising from a rock-climbing background to become the executive director of the Sierra Club in 1952, Brower grew the
organization from roughly 2,000 outdoorsmen to a broad-based
membership of more than 75,000, and galvanized it to
political action. Brower's Sierra Club spearheaded America's
nascent environmental movement and ensured the survival of,
among others, Kings Canyon, the Redwoods, Dinosaur National
Monument, the North Cascades, Point Reyes, the Yukon — and
even blocked a plan to dam the Grand Canyon. But Brower's
campaigning came at a cost: Conservative board members
eventually drummed him out in 1969. Yet Brower continued his
fight — predominantly through Friends of the Earth and Earth
Island Institute, both organizations he helped found — until
his death in 2000.
Footage culled from Brower's personal collection forms the
backbone of Monumental, a technique that allows director
Kelly Duane not only to acquaint us with Brower, the man,
but to see the landscapes he loved as if through his own
eyes. Particularly poignant is Duane's depiction of Brower
haunted by what he considered to be his greatest failure — the
horse trade that saved Dinosaur from a dam but
simultaneously condemned wild and ferocious Glen Canyon to
the dull, placid waters of Lake Powell. Peppered into the
narrative are charming interviews with contemporaries such
as Jerry Mander, who co-engineered the Sierra Club's deeply
affecting advertising campaigns. And Duane includes a
good-humored chat with Floyd Dominy — former head of the
dam-building Bureau of Reclamation and one of Brower's most
implacable foes.
Monumental is an inspiring testament to the power of the
individual. The American West would be a far poorer place
without David Brower.