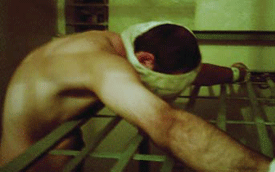 Facts matter:
Sign up
for the free
Mother Jones Daily
newsletter.
Support
our nonprofit reporting.
Subscribe
to our print magazine.
Rory Kennedy's Ghosts of Abu Ghraib, which will premiere on HBO February 22, may be the first documentary about Abu Ghraib, but it surely won't be the last, given the quantity of facts to be uncovered and powerful emotions to be mined. Any documentary on the subject will face charged decisions about laying blame, in addition to the equally challenging problem of access. The Pentagon is less than media-friendly under the best of circumstances, and more so regarding all things Abu Ghraib. Yet any documentarian worth her salt needs footage of the Iraqi prison and interviews with grunts, brass, administration officials, and the torture victims themselves.
Kennedy's thoughtful documentary comfortably clears the hurdle of access, featuring interviews with such unlikely participants as Joseph Darby, who turned ringleader Spc. Charles Graner's photographs over to authorities; former Justice Department lawyer John Yoo, who wrote the notorious memo authorizing "torture light"; General Janis Karpinski, the only high-ranking officer to be charged in the Abu Ghraib scandal; partially concealed Iraqi torture victims; and soldiers whose faces appear in the notorious portraits of torture there. She even obtained some footage of the events those photographs document.
Kennedy's film is quietly methodical, and the viewer can almost feel the filmmaker navigating the treacherous waters between grandstanding, on the one hand, and making excuses, on the other. That caution can, at times, feel like intellectual incoherence, but the predicament is hardly one Kennedy can be expected to resolve single-handedly. You will not walk away from this film feeling like you suddenly know who to fault for the inhumanity at Abu Ghraib, nor will you know what it feels like to torture or be tortured.
Ghosts of Abu Ghraib does give a very human portrait of those stationed at the prison, where, soldiers say, wild dogs regularly dug up the bones of Saddam Hussein's victims and soldiers bunked in rooms flanked by incinerators. The soldiers describe the mounting pressure on them to obtain intelligence from their prisoners. Military intelligence had concluded most were guilty of no more than being in the wrong place at the wrong time, but former MP Megan Ambuhl tells the camera, "We were told that these detainees were the worst of the worst and the information we needed to get was going to save lives."
The incoherence is best captured in the film's treatment of the photos of Graner and Sabrina Harman posing with the dead body of Manadel al-Jamadi, which they had been ordered to clean up. In Harman's version of events, which she narrates with the photo awkwardly hanging from her hand, she posed for no reason at all: "I didn't know he was just murdered. I just thought, it's war; it's another dead guy—big deal." Cohort Ken Taylor expresses shock that that while "Graner and Sabrina were charged with those pictures, we won't charge the murderer, even though it's [been] ruled a homicide.…There is a hole in the middle of this investigation—it's a black, dark hole that says 'cover-up.'"
Allowing those involved in torture to tell their side of the story is a risky undertaking, but Kennedy gets more than excuses from the prison guards. Even so, the film finds firmer footing as it attempts to follow the chain of command. Its money shot is a 2002 memo approving the tactics of "torture light," including nudity, forced standing, and stress positions, to which Donald Rumsfeld has appended a handwritten note: "I stand for 8-10 hours a day. Why is standing limited to 4 hours?" A former Navy lawyer compares the note to "a wink and a nod to the interrogators." Eight months later, Major General Geoffrey Miller was dispatched from the detention center in Guantánamo he had been running to Baghdad, allegedly with orders from Rumsfeld himself to "Gitmoize the situation in Iraq." A few months later, the infamous pictures were taken, and a few months after that, the detainees rioted.
The film gathers ideological momentum as it ticks off the Pentagon's hypocrisies in handling the abuse—an easier task than passing judgment on shamefaced 22-year-olds. Confronted with Spc. Graner's photos, the military offers Amnesty Week—a week in which any illegally taken photographs could be turned over to the Pentagon to be destroyed—and Miller is commended.
The ideological gist of the film ultimately resides in a statement made by Mark Danner, author of Torture and Truth. He calls Abu Ghraib "a great example of bureaucratic virtuosity in handling a scandal." The reports on the abuses form part of the virtuosity: "None of these reports looked at the whole chain of command. There is a long chain that leads from what was done to prisoners in the cell up through military police to the military intelligence that ordered it on some occasions, back to the Pentagon, back to the White House eventually. Until that whole chain is looked at in an authoritative way…we won't know what happened at Abu Ghraib." As an attempt to fill in some of those blanks, Ghosts makes impressive headway.