Fight disinformation:
Sign up
for the free
Mother Jones Daily
newsletter and follow the news that matters.
Published in 2003, Marjane Satrapi's autobiographical graphic novel Persepolis depicts Iran's recent history through the saucer eyes of a feisty girl whose childhood is upended by the 1979 Islamic revolution. At first, nine-year-old Marji is thrilled by the tumult around her, but as she enters adolescence she chafes under the restrictions of the new regime. Between art classes where chador-clad women pose as models, the teenage Satrapi and her friends secretly flirt, smoke dope, and swig homemade wine. You gotta love this girl: After convincing the fearsome female morality police not to lock her up for wearing a punk-rock jacket and a Michael Jackson button, she sneaks home, rips off her head scarf, and plays air guitar to a clandestine rock cassette. Persepolis' irreverence and acerbic wit made Satrapi a cult heroine among reformist Iranians and readers worldwide. One reviewer described her as "the Persian love child of [Art] Spiegelman and Lynda Barry."
Now living in self-imposed exile in Paris, the 38-year-old cartoonist has produced an animated version of her memoir. The movie won the 2007 Cannes Film Festival Jury Prize and packed theaters in Europe. An English version, featuring honey-voiced Catherine Deneuve as Satrapi's mother, Sean Penn as her father, and Iggy Pop as her uncle, has just been released in the States. It's likely to win her even more fans here, reinforcing her belief that the "Great Satan" and its foe in Tehran actually have a lot in common. When more Americans realize that, she says, "It becomes very hard to drop bombs on our heads."
Mother Jones: Iran protested that Persepolis was included at Cannes. I understand you stay out of Iran completely these days.
Marjane Satrapi: It is not as if they have sent me letters saying, "If you come back we will do this or that to you." But I don't know what will happen, and so I don't go back.
MJ: Are you still attached to the country?
MS: I have a couple of friends who are Iranian, but I don't think we can call that a community. I have family in Iran, but I don't talk very much about the situation in Iran today because whatever I know is secondhand information. The image that I have of Iran today is mixed so much with my melancholy and my nostalgia that I can't have a fair point of view.
MJ: What would take you back to Iran?
MS: The day we have a democracy, I will probably go back to Iran.
MJ: What do you imagine your life would be like had you never left?
MS: [Laughs.] Maybe I would have been happier. I'm a very individualistic person. That is why I don't belong to any political party or anything. I really believe in justice and freedom. I felt it was better for me to leave, given the person I was.
MJ: From a young age you were a little firebrand. What gave you that courage?
MS: My mother was the favorite child of her parents. My father was the favorite child of his parents. The result of these two favorite children was me. And I am an only child. So I was convinced that I was the center of the universe.
MJ: As a teenager in Iran, did you really have a jacket that said, "Punk is Not Ded," as you do in the movie?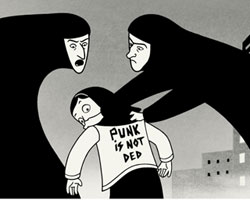 MS: Yes, but it did not have "Punk is Not Ded." What was written on it was something else. I wont tell you what—that is the secret part of my life!
MJ: Did you really have a Michael Jackson button?
MS: Oh, yes. I got arrested for that button. But let us not talk about what is true and what is not true. You liked the movie, and that is important.
MJ: Your parents sent you off to school in Europe when you were 14. Why did you leave Iran the second time?
MS: It was due to many things—my unhappy marriage and all that. But also I wanted to do my artistic work, and in Iran you have censorship. It was difficult for me to do the work I wanted to do.
MJ: What led you to create Persepolis?
MS: I'd heard so many stupidities about my country since I left Iran. People had watched this stupid movie Not Without My Daughter [in which Sally Field plays an American who rescues her daughter from her estranged in-laws in Iran]; I heard so many things like that. I did not make Persepolis for Iranians. It was my answer to the rest of the world, to say, "Let me give you another point of view."
MJ: Is there a reason why this had to be a graphic novel?
MS: Writing is not for me. I completely lose my sense of humor when I write. I become extremely pathetic, very sensational. Images give me possibilities that I don't have with words.
FASHION VICTIM
For the crime of pulling her head scarf back a few inches, 20-year-old university student Zarah Ghahramani spent 30 days in Iran's infamous Evin prison in 2001. There she endured interrogations, beatings, and solitary
confinement. But the hardest part, she says, was when the guards shaved her head. "I never thought it would mean so much, but for me it was such a big thing," says Ghahramani, who now lives in Australia. "These guards know exactly what makes you really depressed. They are really good at what they do."
My Life as a Traitor, Ghahramani's account of her time as a prisoner and her fight for personal freedom, was published in December.
MJ: How do you feel about the enormous response to Persepolis?
MS: I became the voice of a generation in a very surprising way, because many Iranians recognize themselves in it. But that is not what I wanted. I don't like the word "autobiography." I rather like the term "autofiction." The second you make a script out of the story of your life, it becomes fictional. Of course, the truth is never far. But the story is created out of it.
MJ: You have said that Darth Vader was the Star Wars character you most wanted to be.
MS: Absolutely. I was in love with Darth Vader. He was extremely sexy to me. About five years ago, I had almost a sexual dream about Darth Vader. At the moment he was about to pull his helmet off, my husband woke me up and I was so annoyed. I told him, "I was on my way to kiss Darth Vader."
MJ: What do you make of the fact that you are so popular among Americans?
MS: I'm very happy about it. The U.S. is threatening Iran, and then here is this Iranian whom they love. There is no problem between people; the problem is on the political side.
MJ: Likewise, I am always amazed how many people in Iran have read the latest books coming out of the States, or have relatives in L.A., and so on.
MS: Absolutely. I think the most pro-Western country in that region is Iran. The government, no. But the people love Westerners.