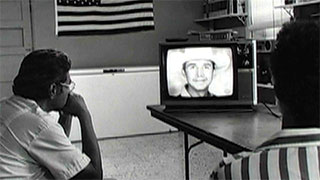 Fight disinformation:
Sign up
for the free
Mother Jones Daily
newsletter and follow the news that matters.
In May 1997, a four-man Marine Corps team deployed to Redford, Texas, to monitor drug trafficking across the US-Mexico border. For three days, it hoped to make a major bust, but saw little suspicious activity. "In a way, we were there for nothing," recalls one of the Marines. The patrol's stupor was interrupted on May 20, 1997, when a local 18-year-old named Esequiel Hernández, who was grazing his goats near the Marines' post, lifted his rifle and squeezed off two shots. The Marines tracked him for 20 minutes before shooting him once, killing him.
Hernández's death inspired The Three Burials of Melquiades Estrada, the somber 2005 movie directed by Tommy Lee Jones. Jones narrates The Ballad of Esequiel Hernández, which airs on pbs's POV on July 8. It meticulously sifts through the sketchy details surrounding the real shooting. The Marines claimed they'd fired in self-defense, but director Kieran Fitzgerald discovers that Hernández, who'd been carrying a rifle to scare away dogs, had been too far away to see the hunkered-down, camouflaged patrol, much less take aim at it. The three Marines interviewed in the film now reveal doubts about why they opened fire. One says his only concrete memory of the shooting is "seeing Hernández with his feet flying up in the air." A Texas grand jury declined to indict the team's commanding officer for murder, in part due to military pressure not to subject soldiers to state laws.
Eleven years later, Hernández's death illustrates how the war on drugs and the militarization of the border have only added to the sense of foreboding along the Rio Grande. After the shooting, a local historian recalls, "Every time a helicopter went by, the mothers would run out and pull their children in because they thought they were going to be killed." And the mindset that led to an American high school student being mistaken for an armed and dangerous smuggler seems to persist. As Colonel John McGee, the head of the law-enforcement task force that assisted the Marine patrols, explains, "When we detect someone coming across the border, we can't tell if it's an immigrant or a drug smuggler or a terrorist, and it doesn't really matter."