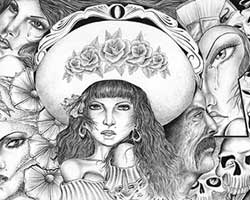 Fight disinformation:
Sign up
for the free
Mother Jones Daily
newsletter and follow the news that matters.
No examination of the American prison system is complete without the testimony of its youngest members: The children currently serving time in juvenile halls throughout the country.
The letters and personal essays below are reprinted courtesy of The Beat Within, an award-winning weekly publication that features the writing and artwork of boys and girls incarcerated in Northern California, New Mexico, Arizona, and elsewhere. For their protection, contributors are identified by their first names or nicknames. The artwork, also reprinted courtesy of The Beat Within, has been collected in the book, Illustrations from the Inside.
Prostitution
By Lauren
As I stand on this lonely street corner, I pray to the Lord that the next man that I "date" isn't the police, or even worse, a murderer. Just the thought of it makes me hold my razor in my hand a little tighter. I look at my phone. It's 12:38 AM, Friday night, and I'm freezing my ass off.
My feet feel like they're on fire and I keep pulling my dress down to keep my privates from showing. I see a car slowing down. The man waves for me to meet him around the corner. I pray a little more and hold my razor a little tighter. As I walk up to the car, I notice he is a Caucasian man. His hair is a little gray and he has what we call the "police haircut," but I'm so anxious to get my next trick, I take my chances.
I smile and say, "Hey baby, lookin for me?" even though I'm thinking "this perverted horny bastard, he knows I'm underaged, he better pay me well or I'ma rob his sick ass."
I hop in, happy I'm out of the cold, wet weather even though I don't feel like being bothered with any man touching me at all…but the faster the money come, the faster I'm goin'. I look outside. The streets are dry, meaning there's no one in sight. I get a little nervous…this guy hasn't said anything to me since I got in. I look over to him and his eyes are glued to the road. Weirdo, I think. My heart tells me to get out so I tell him to pull over. Nothing. No answer, no gestures, just silence. My heart begins to race and my body temperature rises. "pull OVER PLEASE" …
No response. Suddenly he puts his foot on the gas, running all stoplights and signs. I am in shock. It kinda makes me laugh and cry with no tears out of fear. I raise my razor to his neck. I guess he was ready for that, because next thing I know the barrel of his gun is to my left ear. My heart skips a beat. As he slams on the brake, my head hits the front windshield.
Before I can make a move, his hand is around my throat. He gets on top of me and whispers in my ear, "Don't move or I'll shoot you. Give me what I want and I'll let you go." His disgusting tongue slides up the side of my face. I want to kill him with my bare hands. I knew today I was gonna die, so I pray for my family, I pray for my life. My heart is running out of air. My body is screaming for air, I began to squirm. Thank God, he lets me breathe. I whimper to him, too afraid to cry.
I tell him, "Please. I'm only 15, let me live." He comes…I think to myself, only the devil would do such a thing. I look into his eyes trying to cut into his soul and leave a scar forever. The handle to his gun hits me upside my face. Everything is black when I hit the cement and then I wake up from the cold weather. I hear his car door slam. I try to get up but my legs feel loose and my head is spinning. I lean against the car, look into the car window and see that my face is swollen and my eye is black. I thank God to be alive.
I called "my ninja," and he asks me how much money I got. I say, "I just got raped" and he says, "Are you okay?" I say "Do you care?" and he says "Bitch…" I hang up in his face…and I've been pimp free ever since.
To all girls out there who prostitute, get out while you can. You are ruining your body and soul…eventually everything will catch up to you like it has to me. I'm 18 now with sorrow in my heart and shame. I am bruised and scarred forever. If you do what you do, do it the right way, and the most safe way…praying for you.
Proud Papa
By King Chino
I just found out today that I'm a dad. When the counselor first told me I was in my room reading a book and they said, "Norberte, congratulations, you're a dad." I was the happiest man alive, but then I realized that I'm not gonna be able to touch or see my son for a couple of months. I went from happy to sad because it hurts me to know that I wasn't there to see him born and to hear him cry.
It feels like this is a bad dream and I want to wake up from it but I can't. I want to see him so bad. He's the only thing I think about when I'm in my cell. Time goes by so slow now that he's born.
Supporting My Mom Since I Was Seven Years Old
By Brit Brit
I'm scared to change. I been in this shit for too long, since I was seven. Everybody keep asking me, what am I going to do when I turn eighteen? I really don't know, because robbing, hustling, stealing, is all I really know. I just fittin' to do my time an' not let it do me, an' get off probation, so I can go back to being me, without worrying about being on a run.
I really want to change, but how am I going to do that? An' moms is real sick. What if she go to heaven? I'm have to turn to the streets all over again. I ain't been to school in two years, so all I know is the streets. How can anybody ever help me if they don't' know the pain I suffer through?
It's only two people I can turn to—my right hand and my ride-or-die, an' all they know is the streets. I been keepin' my mom clean for a couple of years off drugs, and she is real sick. So don't nobody know why I'm hurtin' an' why I turned to the streets.
When I was seven, I did what I had to do so it can be food on the table, bills paid, and clothes on our back. But it seem like every time I try to touch a couple hundreds, they drag me up in here for violation. But they don't know I'm the backbone of the family, and my family need me.
My bra just got out the pen, an' I think he needs guidance. That's why they should let me out, to help my family. But to all, keep ya heads up. Do this time an' don't let it do you.
RIP to Los: He Was More Than That
By Shorty
I got to send out an RIP to one of my fallen homies in Carlos, best known as Los. He got shot in a drive-by about two years ago on May 25th. All he was doing was walking home from a late night party. Some people may think he was just another gang banger, but he was more than that:
He was an older brother. He was a straight A student.
He was one of my lil' cousin's role models. My lil' cousin looked up to him as an older brother because he didn't have one …but since Los died now my lil' cousin's in a gang. He's been in and out of the hall now and since I am in here doing my time and not out looking out for him, he's on the block kicking it with the homies, doing dirt when he should be at home doing his homework…
But that's how it is when you want to be loved. If you ain't at home getting' it then you got to get it somewhere. That's why I joined a gang, because I wanted to be loved by someone. But all we are really doing is throwing our lives away. So for all those that don't bang, don't start… it ain't worth it. Much love
Good Times Bad Times
By Clarence
The good times in the hood when it ain't no funk. Nobody getting killed, throwing block parties, going out wit' the homies to different amusement parks or just getting out the 'hood for a certain amount of time. Or when the block is rollin' and everybody is getting money and when me and my ninjas ridin around getting' high, enjoying the music.
The bad times when one of my homies get killed and we got to go to a funeral or being at a candlelight vigil and ninjas come and try to shoot it up. When my ninjas go to jail with no bail and when we got to wear RIP shirts. And when me and my ninjas got split up another bad time in the hood when 5-0 hit, or when 5-0 beat yo' ass in a backyard and when somebody family member dies…
Adapting Back To Freedom: Not as Easy as it Looks
By The Adapter
I think the hard part of about returning home when you get out is adapting. You have to get used to being around your family and friends and you act different. You want to do certain things but you're nervous, cause you know that you can get locked up again with the quickness.
At first, you don't even feel like going out and you still do things like you're locked up. You have to un-program yourself from being locked up and tell yourself you can do more stuff or not do certain stuff. But the hardest thing, I think, is how people look at you—including your family and friends who've never been locked up and don't know how it is, so they kinda treat you differently too.
This Is Why I Write
By Espo
I write with a purpose in mind to change lives,
To change a thug captive who's trapped in his own mind.
I'm hoping and praying that these people begin to realize
That I've been there, done it, and see it with my own eyes.
And for them rich kids rocking Versace
And the prostitutes on the corner busy, selling their bodies.
And for the teenager thinking that she's a hottie
When everybody knows that she's really really naughty.
I write for the runaway teen roaming the streets,
And for the people whose true love is under the sheets.
I write for all the people who lose control,
Just keep it all together and don't lose your soul.
I wrote for all the people sitting up in prison,
And for those troubled teens who just seem to not want to listen.
And lets not forget them thugs, I write for them too,
nd us born again believers 'cause we fight for the truth.
And I write for the people who have heat to pack
And for them daybreak victims asking for they clothes back.