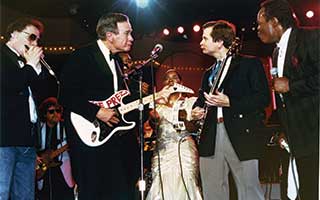 Fight disinformation:
Sign up
for the free
Mother Jones Daily
newsletter and follow the news that matters.
Boogie Man kicks off with a musical montage, intercutting footage of legendary Republican strategist Lee Atwater exuberantly jamming on guitar with clips of the presidents he helped elect taking the oath of office, all while a chugging blues backbeat runs underneath. But don't let this biopic's terrific soundtrack (including tracks by Gov't Mule, Buddy Guy, and Curtis Mayfield) distract you; Atwater's short life was more about rifts than riffs. He loved the blues, but wasn't afraid to exploit racial divides; he grew up middle class in South Carolina, yet spent his career getting millionaires like Ronald Reagan and George Bush Sr. into office.
With interviews with journalists and political insiders like Tucker Eskew and Mary Matalin, director Stefan Forbes recaps Atwater's greatest hits—and hit jobs, like the 1988 primary ad for Bush that dubbed Bob Dole "Senator Straddle," and the Willie Horton spots that helped Bush Sr. crush Michael Dukakis. As liberal pundit Eric Alterman notes, "People vote their fears, and not their hopes, and Lee understood that." Atwater didn't just master the dark arts of wedge politics and dirty-tricks campaigning; he also taught the current Republican leaders what he knew. Karl Rove studied under him in college; George W. Bush worked with Atwater on his father's 1988 campaign.
Atwater loved to win, and Boogie Man shows him having a hell of a good time doing it. Yet Atwater, who died from brain cancer in 1991 at age 40, had some regrets. Dukakis reads from the Life magazine article in which Atwater apologized for the "naked cruelty" and race-baiting he'd deployed against the Massachusetts Democrat.
Superbly shot and edited, Boogie Man is a raucous hidden history of modern politics, revealing how Atwater's behind-the-scenes work tipped elections—and taught Republicans how to win at any cost.