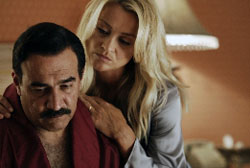 Fight disinformation:
Sign up
for the free
Mother Jones Daily
newsletter and follow the news that matters.
The posters advertising HBO's Saddam biopic look a lot like parodies of The Sopranos posters of old. And there's good reason: House of Saddam is less a story of a dictator (played by Igal Naor) than a dramatization of Saddam Hussein's private life. The characters in both series are similar. There's the overbearing, politically savvy mother, a neglected and slightly tragic wife (Shohreh Aghdashloo), and a glamorous mistress. There are also some graphic representations of murder and torture, but that's where the resemblance to Hollywood mafia ends. Saddam's world feels smaller than life, perhaps because the director made the limiting decision to remain as close to reality as possible, even recreating clothes seen in family pictures. But House of Saddam isn't a documentary, so it's hard to understand why the director insists on living in a factual netherworld that is limited to historical accuracy and yet, because of its dramatic nature, cannot conform to it wholeheartedly.
House of Saddam is broken into four one-hour parts, beginning with Saddam's July 1979 takeover of the Baath party. He gets rid of opposing politicians by accusing them of an attempted assassination plot (after which they are handily assassinated themselves) and installs family members to take their positions. It's hard to feel any compassion for such a cold-blooded character, because even in Saddam's free time he's cheating on his devoted wife or selling off his daughter's hand to the most politically attractive suitor. In fact, Saddam's family, and his time spent with them, is far more interesting than his political machinations. When wandering in Saddam's home turf near Tikrit, he extols the virtues of living in the cradle of civilization. His young son, Uday, complains he's hot. Saddam turns to him with a look of disbelief. "You are your mother's son. Of course you're hot!" he exclaims. "You're in the desert!" He all but slaps the kid upside the head, showing that even he doesn't get a free pass.
The adult Uday is addicting in a performance by Philip Arditti. Impatiently power-hungry in the way of eldest sons, Uday is like a one-man soap opera. He will viciously beat a man to death at a party for little reason, then half an hour later become so ashamed and fearful of his father's reaction that he tries to commit suicide. Uday's loose-cannon antics, plus Bollywood-style propaganda videos and an autobiographical movie Saddam commissioned, keep House of Saddam watchable. Inexplicably, though much of the film focuses on Saddam's political manipulations, the bloodiest bits (e.g. gassing of the Kurds) are glossed over in favor of closed-door meetings that have all the appeal of C-SPAN.
Many of the meetings discuss how to deal with "the Americans." George Bush Sr. and Jr. are seen as vicious hound dogs, constantly nipping at Saddam's heels and beleaguering the tired dictator in his rare moments of rest. But watching Saddam rule, the point comes across that he and Bush Jr. had more in common than they had differences. Both leaders ruled based on emotional, gut decisions, and both left their countries bankrupt and in bad standing with the international community. Oil is at the heart of both their native lands. Maybe the key difference was that Saddam had to fight, and murder, his way to the top while Bush was simply born on it. And while Saddam clung desperately to his power, even while hiding in a foxhole, Bush seems all too glad to let it simply slip away.
House of Saddam, parts 1 and 2 premiere December 7 at 9 p.m. on HBO. Parts 3 and 4 premiere December 17.
Jen Phillips is an assistant editor at Mother Jones.
Photo courtesy of HBO Films