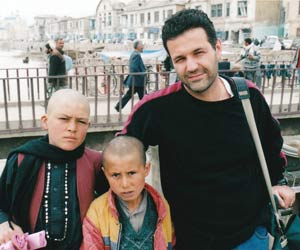 Fight disinformation:
Sign up
for the free
Mother Jones Daily
newsletter and follow the news that matters.
Read the extended version of this interview here.
Khaled Hosseini's fortunes have risen as his native Afghanistan's have sunk. His 2003 debut novel, The Kite Runner, an engrossing tale of friendship, betrayal, and redemption, sold more than 6 million copies and was turned into a feature film. His second Afghan-centric best-seller, A Thousand Splendid Suns, is also headed to the silver screen. But the 44-year-old novelist's greatest stroke of luck came decades ago. When he was 11, he moved to Paris, where his diplomat father had been posted. Two years later, in 1978, communists assassinated Afghanistan's president, triggering a cycle of war and upheaval that continues today. Hosseini's family eventually settled in California, where he became a doctor. Now a full-time writer and goodwill envoy for the United Nations High Commissioner for Refugees, he is skeptical that sending more US troops can bring his homeland back from the brink. "We're not going to win this war with bullets and guns," he says. "There has to be a broader plan." Read an extended interview here.
Mother Jones: What's been the impact of more than 30 years of war on daily life and culture in Afghanistan?
Khaled Hosseini: When I went to Afghanistan in 2003, for the first time in 27 years, I walked into a war zone. Entire neighborhoods had been demolished. Every 10-year-old kid on the street knew how to dismantle a Kalashnikov in under a minute. I would flip through math textbooks and they would include word problems such as, "If you have 100 grenades and 20 mujahideen, how many grenades per mujahideen do you get?" War has infiltrated every facet of life.
MJ: The arts, for one.
KH: The Taliban put a ban on virtually any form of artistic expression. There were people who would meet in subversive ways to write stories, people who hid their novels inside walls. One artist painted over all his human faces with watercolor so that his painting would be Shariah friendly. When the Taliban left, he just washed the painting, and the faces came back.
MJ: You used that in Splendid Suns—the Taliban say that flamingos in a painting have to wear pants.
KH: Yeah, the Muslim flamingos.
MJ: What was it like to return home?
KH: Very similar to the experience of my character Amir in The Kite Runner. I was profoundly saddened. But the thing I saw, just like him, was that there's this inherent and basic decency, kindness, and dignity among the people there. I was standing on a street corner and this little boy—couldn't have been more than nine—stood next to me. I reached in my pocket to give him a bill, and he said, "No, uncle, I'm not a beggar. I work." And I said, "Oh, I'm sorry." And he said, "But if you'd like, you can come over to my place for dinner and tea. We would be honored to have you." And then he pointed to where he lived, and it was this hole underneath this collapsed building, and his entire family lived in that hole! I didn't go, because if I had, whatever bite that family had to eat, they would have given it to me.
MJ: If the fighting ended right now, how long would it take for Afghan society to flourish again?
KH: A generation or two. Virtually every institution of some meaning was destroyed. In The Kite Runner, the first 100 pages or so speak about Afghanistan prior to the Soviet war, which many Afghans now view as the golden era.
MJ: You've described how Afghan women could work back then, go out on their own, wear makeup, and so forth. But wasn't it a very different story in the countryside?
KH: The way that people saw the Taliban treating women, unfortunately, is the way women have been treated in many parts of the country going back centuries. Kabul has always been sort of a cultural island.
MJ: Early in this conflict, American officials talked a lot about the rights of Afghan women. You don't hear it anymore. Should America be part of that battle?
KH: Throughout the last century there were multiple attempts at giving women more autonomy, to change marriage laws, to abolish bride-price and child marriage, and to require girls to go to school. Every time, the reaction from the traditionalists was one of contempt and scorn and, at times, outright rebellion. At one point they called jihad on one of the Afghan kings. So we do have to be careful. I think the emancipation of women in Afghanistan has to come from inside, through Afghans themselves, gradually, over time. I see it really as one of the seminal challenges. Without women taking an active role in Afghan society, rebuilding that country is going to be very difficult.
MJ: Your success as a writer made you a spokesman for a country you left at age 11. What has that transition been like?
KH: Wonderful, actually. For a novelist, it's kind of an onerous burden to represent an entire culture. That said, I'm in a unique position to speak on behalf of Afghanistan on certain issues that I feel are important, particularly the issue of Afghan refugees. More than 5 million Afghans have returned home since 2002, many with high hopes of living in peace and rebuilding. Many face the harrowing prospect of living out the Afghan winter cooped up in holes in the ground, in tents. The situation is really, really dire.
MJ: Misplaced guilt and betrayal are common themes in your novels. Does part of you feel guilty about getting out?
KH: Really, it was just a genetic lottery—and sheer luck. There's part of me that does have kind of a survivor's guilt, but these books have really given me an opportunity to do something for the people in Afghanistan that is hopefully enduring and meaningful.
MJ: Of course, Afghanistan has suffered a whole series of brain drains as people fled.
KH: Afghanistan today has an almost 90 percent illiteracy rate among women, almost 70 percent among men. It's a country that couldn't afford the brain drain. I remember when in 2002 President Karzai gave his famous speech at Georgetown, where he said, "Come back to Afghanistan," and a lot of people took up that call.
MJ: They desperately needed doctors. Did you consider it?
KH: I have to be honest: I didn't. I was married and I had a young boy and I could imagine neither detaching myself from them nor taking them to Afghanistan. In 2003, I could walk down the streets of Kabul at 10 at night. I wouldn't dream of doing that today. Insecurity has really changed things, and it's much more difficult to lure back those capable, educated people.
MJ: In opinion polls, Afghans express a great hatred for the Taliban and the warlords.
KH: The warlords took part in atrocities during the civil war. They looted, they raped, they killed, they helped destroy almost 70 percent of Kabul in the early to mid-1990s. And now they have become incredibly empowered and entrenched. They live in mansions, they have jobs in the government, and they're incredibly powerful. In Kabul, people don't want to speak about it too publicly, because these people are essentially like Tony Soprano.
MJ: Anything new in the works?
KH: I'm working on another novel. It does have to do with Afghanistan, but I think the take will be very different. It will be a lot more focused on story and on character rather than political events. I'm very wary of retracing my own footsteps.