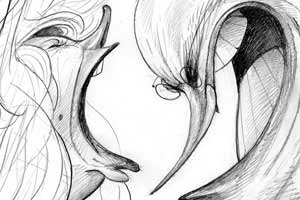 Facts matter:
Sign up
for the free
Mother Jones Daily
newsletter.
Support
our nonprofit reporting.
Subscribe
to our print magazine.
Even staunch conservatives lately have been calling Liz Cheney out for going too far: calling the DOJ the "Department of Jihad" for having the poor judgment to provide legal defense to Gitmo prisoners. (So much easier to just drown them.) Ken Starr and Lindsay Graham have been trying to distance themselves from the Cheneys, explaining that legal representation is an essential part of the US criminal justice system. I remember Liz and Dick in that brilliant film version of "Who's Afraid of Virginia Woolf?" They played a twisted, foul-mouthed couple in a spectacular insult marathon. You can't look…and you can't look away.