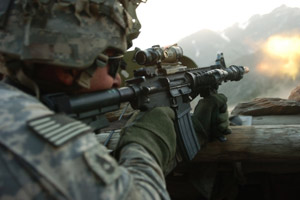 Fight disinformation:
Sign up
for the free
Mother Jones Daily
newsletter and follow the news that matters.
The week before September 11, 2001, was eerily quiet in America. In the lull of a late summer news cycle, a series of shark attacks ruled the headlines. The president, back from cutting brush in Crawford, Texas, floundered in the polls. That time period appears, as if preserved in amber, early in Tom Engelhardt's biting look at United States militarism, The American Way of War: How Bush's Wars Became Obama's. "[T]he savage attacks of the following day would, in fact, buy a faltering, confused, and weak administration, as well as a dazed and disengaged president, a new life," he writes. "In an American world now filled to the brim with horrors, a United States that was no longer a 'country,' but a 'homeland' and a Homeland Security State."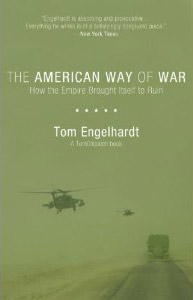 Except a Homeland Security State has always been stuck in the American subconscious; it just experienced a coming-out after 9/11. In this pithy collection of essays, Engelhardt—cofounder of the American Empire Project and the Nation Institute-sponsored blog TomDispatch—charts the long history of America's obsession with war. Beyond the Bush administration's expanded US military agenda, militarism and its trappings have been ingrained in the American psyche for decades. "That's why, for all the shock, it was, in a sense, so familiar," he writes. "Americans were already imagining versions of September 11 soon after the dropping of the first atomic bomb on Hiroshima on August 6, 1945." Hollywood-generated apocalypses from The Towering Inferno to Independence Day had set a cultural precedent for visions of widespread manmade disaster. The Bush administration only seized on that vision to fuel its own version of reality.
In The American Way of War, Engelhardt presents absolute notions of war and peace as vestiges of a vanished world. In chapters like "Shock and Awe: How We Got Hit," "Air War, Barbarity, and Collateral Damage," and "The Language of War, American-Style," he probes our capitulation to a modern-day strain of Orwellian Newspeak, in which "war" or "more war" are the only options, and "less" no longer exists. "As for 'peace'—war's companion and theoretical opposite—it, too, has been emptied of meaning and all but discredited," he writes. "No longer the opposite of war, it's just a rhetorical flourish embedded, like one of our reporters, in Warspeak."
Meanwhile, the Bush-coined Global War on Terror made possible a continuous state of conflict. GWOT recast contemporary combat as a generalized ongoing struggle, a state of being, rather than a specific military engagement with a specific purpose: "Keep heading backward through the Vietnam and Korean Wars, and the US military was last truly victorious in 1945. But achieving victory no longer seems to matter. War America-style is now conceptually unending, as are preparations for it."   
Those preparations are tracked in Engelhardt's book in alarming detail. In "How to Garrison a Planet," he investigates a Pentagon "lily pad strategy" of dropping bases everywhere the United States anticipates war. Embassies aside—he balks at the $592 million, 104-acre US embassy in Baghdad's Green Zone in the mordant "Wonders of the Imperial World"—there are at least seven hundred American military and intelligence bases scattered across the globe. The Pentagon's budget has increased on Barack Obama's watch, and according to Engelhardt, within the next two years we will see "near-Vietnam-level escalation rates" in Afghanistan. The president who campaigned to end the Iraq War, he writes, has conceded to the generals who advocate this other "necessary" war.
In an epilogue wryly titled "Premature Withdrawal," Engelhardt condemns pundits and strategists who keep the Warspeak machine in motion. "What, of course, makes their arguments particularly potent is the fact that they base them almost entirely on things that have yet to happen, that may, in fact, never happen," he writes. Engelhardt himself has been working for years to deflate such fantasies on TomDispatch, from which these essays were culled. In his latest book, as in his daily dispatches, he takes on our war-possessed world with clear-eyed, penetrating precision.