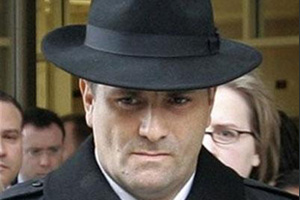 Fight disinformation:
Sign up
for the free
Mother Jones Daily
newsletter and follow the news that matters.
Superlobbyist Jack Abramoff began his term as federal prisoner 27593-112 on November 15, 2006. This December, he'll be released from a halfway house after serving a bit more than half of his six-year sentence. (He's been working in a pizza shop in the meantime.) In Casino Jack and the United States of Money, which was released on DVD this week, Oscar-winning documentarian Alex Gibney reminds viewers what, exactly, Abramoff did to land in the pokey—and asks why more people didn't end up in there with him. Shortly after the film's release, Mother Jones spoke with Gibney and journalist (and Mother Jones contributor) Peter Stone, who wrote the companion book.
Mother Jones: What first attracted you to Jack Abramoff as a documentary subject?
Alex Gibney: I thought it was an incredible story. The many tentacles of his operation were like a nonfiction action spy thriller. You didn't know whether to laugh or cry. It seemed like a great story and beyond that it seemed like a way to penetrate the rather dry world of influence-peddling in Washington—one of the, if not the, central flaws of our democracy.
MJ: What did each of you learn about Abramoff that was most shocking?
AG: What I learned about Jack is that he was not just a corrupt criminal. Well, he was corrupt, but he wasn't a classic criminal. He was a zealot who was fiercely ideological. As a young man he was almost like a Leninist plotting to take power, and in some ways he kind of did. But along the way he became deeply corrupt. That aspect of Jack really surprised me and interested me.
Peter Stone: I have a slightly different perspective. As the scandal unfolded and I came to understand Jack, one of the themes that struck me was that there was a very public side to Jack Abramoff—someone who reveled in opening a restaurant like Signatures, someone who loved taking members to his suites at FedEx Field and the Verizon Center, a great entertainer who moved quite effortlessly through the highest ranks of Republican power circles in Washington. But he was also somebody who loved to operate under the radar. He loved to operate through conduits and cutouts and shells. Many of his biggest scams were done this way. It was a great detective story to dig into and peel back the onion on these kinds of scams.
AG: The only thing I would add, and Peter may disagree with this, but with these schemes, it was as if he was in a John Le Carré novel and he was living it out for real. I think he saw himself as a kind of operative, a political operative. Even as a lobbyist, he was trying to shape people's opinions much like the CIA does. I think he saw himself as a kind of a spy and he loved that stuff.
PS: I wouldn't disagree with that. There was a way in which he reveled in developing these undercover operations to enrich himself enrich his friends in Congress. There was definitely a strong ideological dimension to all of this. Jack was a great believer in less regulation. That's why the Marianas Islands were declared by Tom Delay a perfect Petri dish for capitalism. They were seen as a paradigm for what could happen I the U.S. as regulations were killed and cut back through the Reagan years. Jack pitched the Indian tribes and the Marianas to powerful Republicans as exemplars of less regulation, and so there was a perfect synergy between his lobbying clients and his ideological views, and much of this involves stealth operations, which he was a master of.
MJ: Did you set out to tell the story in an action-spy-hilarious-but-awful style?
AG: Jack was this larger-than-life figure, in some ways a comic figure, and in some ways very dark. So I wanted to find an eclectic style that takes all of that into account. I set the rules right off the bat with a quote from Jack, "You don't want to make a documentary. No one likes documentaries. You want to make an action film."
MJ: In the four years since his conviction, how much has changed? How likely is it that another Abramoff-esque figure is out there, especially considering the Citizens United decision?
AG: My view is that writ large, not much has changed. Indeed, it has gotten worse. It's true that rules and regulations are a little more difficult for lobbyists to elude now. You aren't allowed to sit down and have lunch with people, but that's not a very fundamental change to me. And now with Citizens United you've added another weapon, it's an extortionist weapon, one that commands, "Do what we want or we will bury you, and we have unlimited resources to do so." I see it as really problematic. Jack is an exemplar of how wacky and wild it can get, but he's a rather small player in a more pernicious and troubling problem. It couldn't be any worse.
PS: Well, I agree with a lot of what Alex said, but I believe Jack was an outlier in many ways. He was both the exception and the rule. He was the exception in that he broke laws, but he was also the rule, because many of the things he helped popularize, and which he became legendary for, like extreme fundraising and wining and dining members to an extravagant degree, were legal techniques that were popular in the lobbying world. And I would agree with Alex. The influence industry has grown at Malthusian rates in Washington. It's a $3.5 billion-a year business and last year we saw two extraordinary examples—heath care reform and financial services reform. Both have poured hundreds of millions into lobbying campaigns.
MJ: Tell me about your efforts to interview Abramoff for the film.
AG: I visited Jack as a visitor [in prison], and at first he was very weary, but I said, "Look. I'm not a movement conservative, and I'm certainly not Jewish, but you might want to talk to me because I think there is one thing on which you and I agree. While I think you did a lot of things that were terrible, I also think you were scapegoated. People are trying to hang all the problems with influence peddling on you and then convince everyone that since you're in the pokey everything is fine. I think that's dead wrong." Ultimately he did agree to be filmed. We went to the Bureau of Prisons and the Department of Justice and they kept putting up all sorts of nonsensical roadblocks in our paths. We were just about beating down the door when out of the blue I got a note saying, "Mr. Abramoff declines to be interviewed by you." I learned that the Department of Justice had brought a tremendous amount of pressure on Jack both by threatening him and offering him certain carrots to not be interviewed by me. They muscled him, and it didn't happen.
MJ: What sense did you get about his frame of mind from your conversations with him?
AG: He didn't like being in prison. He was probably chastened. He would go through bouts of anguish and self-pity and some rationalizing. But I also found him to be charming. He's very funny, he's candid, he's a good storyteller, and he's a real revelation in terms of understanding how the sausage is made in Washington. He had been part of the sausage-making crew. I don't know what he'll do now, whether he will spend his time trying to justify what he did or whether he will try to come clean.
PS: Or he may go back into the movie business. There is speculation about that among some of his friends.
AG: I'm not as hopeful of that, though I will say he is a big movie buff. He loves to quote movies. When I was talking to him, he was a big fan of that Claude Rains line from Casablanca, "I'm shocked, shocked there's gambling going on here."