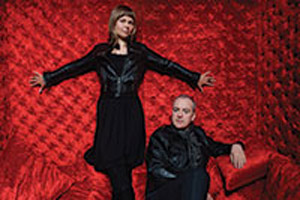 Fight disinformation:
Sign up
for the free
Mother Jones Daily
newsletter and follow the news that matters.
Need a new play list? These four tracks should be in heavy rotation. Plus: Liner notes, band pairings, and behind the music scuttlebutt.
TRACK 7
"A Storm—A Tree—My Mother's Head"
from Bobby Bare Jr.'s A Storm—A Tree—My Mother's Head
THIRTY TIGERS
Liner notes: Backed by brooding steel and delicate acoustic guitar, Nashville maverick Bobby Bare Jr. sings about the stormy night in 2008 when a 100-year-old beech tree fell on the family home, nearly killing his mom. (She later recovered.)
Behind the music: The son of Music City legend Bobby Bare ("500 Miles Away From Home"), Bare Jr. performed the Grammy-nominated duet "Daddy What If" with his father at age five. He recently produced a tribute album devoted to his late mentor Shel Silverstein, who wrote that song.
Check it out if you like: Drive-By Truckers, the Bottle Rockets, and others who put personal twists on country and roots-rock traditions.

TRACK 9
"Sit and Spin"
from Chocolate Genius Inc.'s Swansongs
ONE LITTLE INDIAN
Liner notes: "I don't want to lose you," croons Marc Anthony Thompson in this haunting piano ballad on an eerie and beautiful album about letting go.
Behind the music: Thompson conceived of Chocolate Genius after releasing two albums of pop-soul in the '80s. His other projects have included making film music (Twin Falls Idaho, American Splendor) and touring with Bruce Springsteen.
Check it out if you like: Outsiders who bend familiar styles to their will, such as Tom Waits, Prince, and Terence Trent D'Arby.

TRACK 8
"All Hail Dracula!"
from Someone Still Loves You Boris Yeltsin's Let It Sway
POLYVINYL
Liner notes: Best known for wistful love songs, the introspective combo takes a charmingly goofy detour on this track, declaring, "I'll do your evil bidding" to slashing riffs and punchy beats.
Behind the music:: Boris Yeltsin's 2005 debut got a boost when one song was featured on The O.C. This, the Missouri band's third album, was coproduced by Death Cab for Cutie guitarist Chris Walla, who added a tougher edge without sacrificing the band's delicate melodies.
Check it out if you like: The Shins, Real Estate, and other bands who enjoy jangly guitars and sweet vocals.

TRACK 5
"Turning It On"
from the Vaselines' Sex With an X
SUB POP
Liner notes: She (Frances McKee) sighs, "One sign of affection can lead me astray," to which he (Eugene Kelly) replies, "It's turning you on, but I'm turning away," in this tale of sexual warfare.
Behind the music: These sharp-tongued Scots parted ways in 1989, the same week their debut album was released, but Kurt Cobain subsequently championed their music, recording three covers, such as "Jesus Doesn't Want Me for a Sunbeam." The scrappy folk-pop of this belated follow-up shows no signs of age.
Check it out if you like: The softer side of the Velvet Underground (for the sound); classic country duo Johnny Cash and June Carter (for the sordid relationship drama).