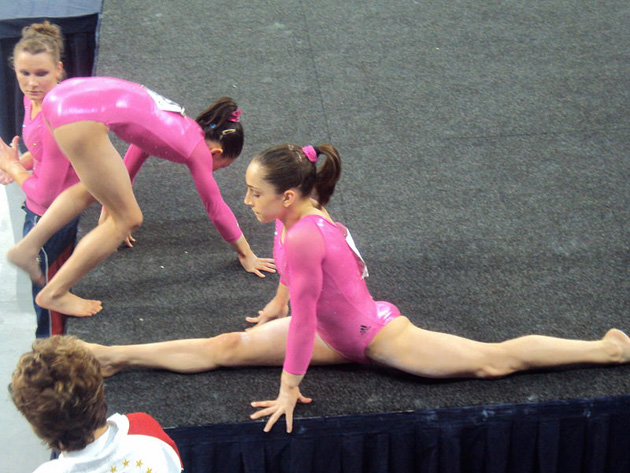 Fight disinformation:
Sign up
for the free
Mother Jones Daily
newsletter and follow the news that matters.
Look, it's not London's fault. Great Britain is, well, great and all, and some of the competition has been top-notch—but a scant four days after Queen Elizabeth, David Beckham, and the shire opened these games, it's hard to shake a sense that Earth is so over the Olympics. People have perennially complained about how the games are broadcasted, politicized, monetized, and watered down; this year that talk seems to have reached record heights—with good reason, and a heap of assistance from NBC. Here's a rundown of the XXX Olympiad's suckage so far: 
10) Their lame attempt at "fairness."
The Olympics are about watching matchups between the world's greatest athletes at the top of their game, right? Not in gymnastics, where a strange pro-amateur, anti-meritocratic "fairness rule" bars any individual country from sending more than two competitors to the all-around finals. Which is why 2011 world champion Jordyn Wieber won't be defending her all-around individual world title in the Olympic finals this week. Even though she turned out the fourth-best performance out of 98 women in the preliminary round, she was the third-best American, and so she rides the sideline.
Lest you think we're being American exceptionalists, a similar rule in the men's soccer competition requires the teams to reserve all but three of their roster spots for players under 23—in other words, greenies who haven't generally burned up the leaders' boards in World Cup and professional play. Which is why the Spanish national team is going home after two early losses, after the country clinched titles in the most recent World Cup and Euro Cup tourneys. Bizarrely, there's no such ageism in the Olympic women's competition—which makes it a lot more interesting than the dudes' junior amateur play.
9) Their lame lack of fairness.
If the ethos underlying those gymnastics and soccer rules—amateurism, equality, and fair play—were consistent throughout Olympic competition, that would be sort of admirable. But that gets in the way of the merchandising and medal counts and rooting for world domination by [INSERT COUNTRY HERE]! These are the games where you can protest judging results with a wad of Benjamins in your hand and maybe get a silver medal for your trouble. In basketball, King James and Kobe still get to hog the sort of gold-plated glory that would fulfill a Lithuanian's or Argentine's lifelong dreams, but pretty much qualifies as offseason training for the NBA multimillionaires. Nor does the tennis competition, with its Federers and Williams sisters, resemble a future-stars competition so much as a Grand Slam tune-up. 
8) The fake horse race (a.k.a. the Jay Rosen critique).
Ryan Lochte and Michael Phelps are not mortal enemies; in fact, they have a lot in common with each other. But apparently the US media have decided that viewers don't have the attention span to follow a narrative that includes more than two swimmers at a time. It's like Romney vs. Obama! Bud vs. Bud Light! Freedom vs. commies! Screw the rest of the world—and screw the fact that three people get medals in any given race. Third wheels are for trashy reality shows, not US-dominated sports!
7) The whole "silver-medal winners are LOSERS" thing has gotten really old.
On one hand, you could say the US men's 4×100 freestyle relay swim team put in the second-fastest time in the world. On the other hand, you could say (as even the New York Times did) that they lost. In 1910, Theodore Roosevelt praised the athlete ("the man who is actually in the arena") not for winning, but for competing: "If he fails, at least [he] fails while daring greatly, so that his place shall never be with those cold and timid souls who neither know victory nor defeat." Of course Teddy would say that: He came in second in the 1912 presidential election. Wuss!
6) Education apparently is not a training priority.

A New York Times profile of America's three entrants in women's table tennis included the suggestion that that their ability to catch up to the Chinese will be irreparably hampered by the Americans' desire to earn a degree. "Too bad Ariel has to go to college," one girl's coach, a former Eastern Bloc Olympian, said. Why go to Princeton or Stanford when you could dedicate your life to a sport that looks to spectators like a Roomba cleaning a small closet at full speed?
5) Also, table tennis.
Did you know you can call timeouts in this summer basement timewaster Olympic sport? Also, there are two umpires for every match, neither of which are your dad making bogus calls to give little sis a chance at beating you.

4) Beach volleyball in bikinis. In England. On the Household Cavalry's parade grounds.
Besides being one of the few Olympic sports that go great with Bud Light Lime and bad spring-break decisions, beach volleyball has profaned one of Londontown's most hallowed spaces: the drill field used by the Queen's ancestral guard, in the royal palace at Whitehall. That means you can shotgun unlimited beers and ogle Misty May-Treanor's teeny bikini in the same location where Charles I was beheaded during the English Civil War. (The Horse Guards' captain told NBC Sunday: "Actually, a lot of us are familiar with the sport, since it's one of the few we could play…in Afghanistan.")
3) The looks on the faces of the undernourished, underdeveloped, fragile-as-tissue-paper gymnasts are as bad as ever.
Gymnastic exercises are getting tougher than ever before, what with the 80 pounds of makeup the women have to wear while tumbling. But although the US contingent had a mixed outcome in the medal rounds (gold for the ladies, bubkes for the guys), it dominates the world in normalizing creepy parental conduct, like this preening from Aly Raisman's folks and everything Danell Leyva's dad has ever done.
2) Bob. Costas.
Grasping for something to say about Uganda's athletic procession in the opening ceremony, Costas delivered this nugget: "Winston Churchill considered Uganda to be the pearl of Africa. Of course, Churchill never met Idi Amin." And Costas never met a room that he couldn't deprive of oxygen with his insipid yet bizarrely superior blather.

1) The Comcast/NBC TV debacle.
Where to start? With the haunting opening-ceremony memorial that the Olympic TV broadcaster edited out for a Ryan Seacrest studio interview? With Matt Lauer's and Bob Costas' inane ramblings during the parade of nations? In just the first three days of competition, the ne'er-do-well network pretended that five-hour tape delays don't matter in the internet age; snubbed the guy who really invented the internet; interviewed some dude on the street about the queen, and never realized he was Evander Holyfield; and responded to the constant criticism by getting one of its biggest naysayers booted off Twitter, which only earned it more ire.
If you're really into internationalism, don't bother watching. (Hard to believe the US men's gymnastics team didn't win a gold, since judging from NBC's prime-time coverage, America was the only country that fielded a team.) About the only win was MSNBC's tandem of weightlifting commentators, who sounded like Drew Carey and the Farmer Fran from The Waterboy anchoring ESPN 8 ("The Ocho!") on moonshine.
NBC's censorious, 2.0, head-in-the-sand jingoism trumps even previous years' incompetence. It's a triumph of the middle mind and a tech fail to rival the Segway. Here's hoping somebody better can snag the next Olympics—like Fox News or Lifetime.