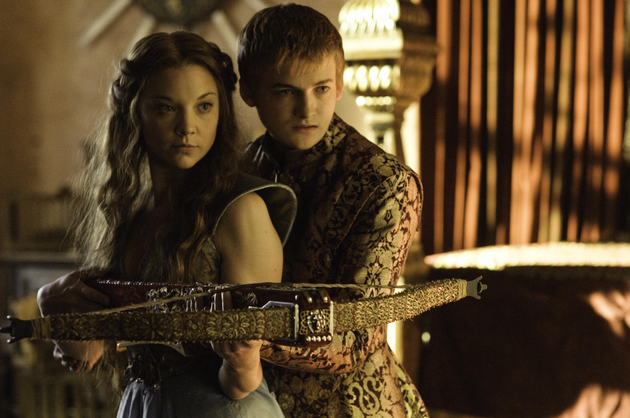 Fight disinformation:
Sign up
for the free
Mother Jones Daily
newsletter and follow the news that matters.
This review contains minor spoilers for Game of Thrones Season 3.
Just when you think you've finally got the heroes and villains in HBO's epic fantasy series Game of Thrones all figured out, Season 3 again draws your sympathy towards Westeros' devils.
That reversal is built into the source material for Thrones, George R.R. Martin's unfinished seven-book series, A Song of Ice And Fire. The dwarf Lannister son Tyrion's brave and near-fatal defense of King's Landing is rewarded with isolation. In the North, Robb Stark wins every battle, yet seems no closer to winning his war. Theon Greyjoy gets the Zero Dark Thirty treatment from his captors—who seem to be allied with his one-time friend Stark.
Thrones wants you to know that ruthlessness, cunning, and even competence are no greater a shield against a cruel fate in Westeros than Ned Stark's honesty and honor proved to be—and that the show's villains aren't quite so villainous. Acts of heroism from those who once seemed heartless, and moments of unconscionable suffering for those you might have thought deserved it, compel the viewer to reconsider who the "good guys" really are.
But Thrones' creators David Benioff and D.B. Weiss have their own set of audience expectations to challenge—particularly their treatment of women. (Read our interview with them here.) Thrones has been widely and justifiably mocked for its use of "sexposition," a.k.a. nudity, to introduce important plot points, and Martin's source material has complex but deeply flawed gender politics. Perhaps that's why in Season 3, it's the women of Westeros—and their attempts to manipulate a barbarous, patriarchal society rife with sexual violence—who take center stage. From the ladies of House Tyrell quietly making their bid for Iron Throne, to former prostitutes pulling the strings of power behind the scenes, to Brienne (the sworn sword of Catelyn Stark) humbling feared warrior Jamie Lannister, Thrones writers enhance the roles for the women of Westeros—in some cases beyond the bounds of Martin's books—and it's mostly for the better.
Ned Stark pulled the viewer through Season 1, at least until he lost his head. Tyrion's wielding of the power behind the Iron Throne occupied Season 2, and even in Season 3 the best one-liners remains his. (When King's eunuch spymaster Varys recounts the events that lead to his castration, he tells Tyrion that defeating Stannis Baratheon was a kind of "symbolic revenge." Tyrion responds, "I feel the need for actual revenge.")
Still, it is arguably the ruthless Queen Cersei Lannister who emerges as the principal character in the first few episodes of Season 3. Until now of course, she's been one of the show's principal villains—telling her brother and lover Jamie Lannister to push Bran Stark out of a window, imprisoning Ned Stark, and helping arrange the death of her husband, King Robert Baratheon.
But hey, look what Cersei has to deal with. Her father, Tywin Lannister, refuses to recognize her as his heir. Her son Joffrey is an illegitimate product of incest between her and her brother as well as a total sociopath. House Tyrell, whose army saved King's Landing from being sacked by Stannis Baratheon while Joffrey was cowering in his keep, have moved into court and are now making a subtle play for the Seven Kingdoms by marrying Margaery Tyrell to Joffrey. When Cersei points out to Joffrey that Margaery was previously wedded to one of his deceased rivals, he cruelly brushes her off by arguing Margaery was only doing what she was told. Then he twists the knife. "That's what intelligent women do," Joffrey says. "What they're told."
For Cersei, who believes that the only thing keeping her from power is that she is a woman, nothing could be more cruel than hearing this from the son whose enemies she has crushed one by one. Not only because he's wrong, but also because it shows he possesses all of her cruelty but none of her cleverness. Cersei is now being surrounded by Tyrell women who are just as cunning and ruthless as she is, and by Lannister men who seem oblivious to the threat. When Joffrey asks Margaery why she married a "traitor," she bats her eyes and tells him that the "subtleties of politics are lost on me," even as she quietly manipulates the peasants of King's Landing—who last season almost tore Joffrey limb from limb during a riot—into seeing her as their savior.
Later, as Joffrey takes Margaery's hand and guides her around the royal crypt, gleefully recounting the brutal deaths of his kingly predecessors (this is a date, apparently), Margaery's grandmother Olenna senses Cersei's blooming jealousy. "We mothers do what we can to keep our sons from the grave, they do seem to yearn for it. We shower them with good sense and yet it slides right off like rain off a wing," Olenna says to Cersei. "And yet the world belongs to them," Cersei points out. "A ridiculous arrangement in my mind," Olenna replies.
Olenna's right—from the icy wall in the North to across the Narrow Sea, where Danaerys Targaryen raises her dragons and seeks an army to retake Westeros, there's no shortage of cruelty, stupidity, or self-regard in the men seeking power. It's why, as the season hurtles toward its bloody conclusion, they'll have no idea what's coming. Besides Winter, of course.
Correction: This piece previously stated that Cersei ordered the deaths of King Robert's children sired out of wedlock. That is how it takes place in the novel. In the show, it is Joffrey who gives the order.