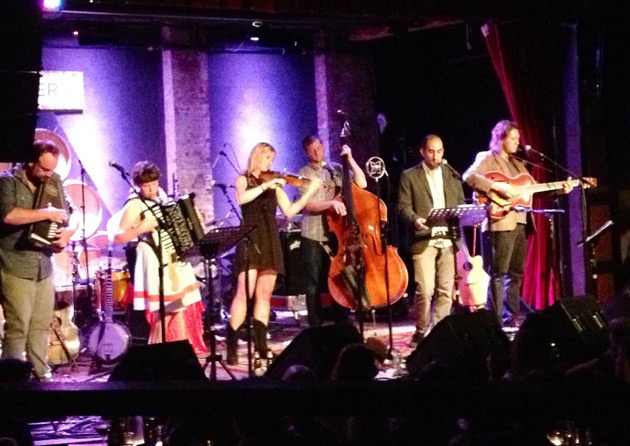 Fight disinformation:
Sign up
for the free
Mother Jones Daily
newsletter and follow the news that matters.
It's possible that every journalist secretly wants to be a rockstar. More than a few probably fancy that they're not far off. But Jon Mooallem, the magazine writer whose quirky and invariably surprising work includes the recent book, Wild Ones, has done one better: He got himself a band. Starting Wednesday, Mooallem is shaking up the lonely book-tour paradigm and hitting the road with Black Prairie, a Decemberists side project that recorded a Wild Ones companion album. It's called Wild Ones: A Musical Score for the Things That You Might See in Your Head When You Reflect on Certain Characters and Incidents That You Read About in the Book.
"It evokes old-time radio theater," Funk says. "It's an impressionistic way of bringing a book to life."
The Wild Ones Live! tour, Mooallem told me, tells the true story of William Temple Hornaday, an "eccentric, blustering taxidermist who winds up helping to invent modern environmentalism as we know it" alongside tales of "turtles and polar bears and a man dancing with a bird." Mooallem reads and Black Prairie scores the reading, resulting in what Mooallem and Black Prairie cofounder/dobro player Chris Funk describe as a mashup of radio, opera, musical, and rock and roll show. Wild Ones (the book) unpacks our odd and evolving relationship with the natural world and our often-Herculean attempts to preserve it—Mooallem zooms in on three species: the polar bear, Lange's metalmark butterfly, and the whooping crane. But in the end, the book is more about us than about the animals. (Maddie Oatman writes more about it here.)
"When you're reporting something and living through these things, you have an emotional response, and you use the writing to try to create that in people reading it," Mooallem says. But with the band behind him, "it's almost like a left-brain, right-brain thing—I'm telling you a story, then you're getting all these emotional cues from the band."
As the telling unfolds, Mooallem and the musicians rotate in and out of the spotlight. "It evokes old-time radio theater, in the sense that there are these character voices," Funk says. "It's an impressionistic way of bringing a book to life."
Mooallem and Funk have known each other since 2003, when The Decemberists, for whom Funk plays guitar and numerous other instruments, was starting to really take off. But this was the first time they thought to join creative forces. "It came up," Funk explains, "because Jon had listened to the music while writing" and the styles seemed a natural fit. It also happened to be the kind of project that Black Prairie was looking for, so they dove in.
This isn't Mooallem's first foray into experimental mediums—he's a regular contributor to Pop-Up Magazine, a popular San Francisco event in which artists, filmmakers, journalists, photographers, and musicians perform a magazine on stage for one night only—no recording allowed. "I think that definitely expanded my idea of how you can tell stories on stage," he says. "I'd love to see more of an infrastructure built up for this kind of thing."
"When we first started, people didn't really know what to expect," Mooallem says.
He thinks the whole book-talk-as-concert thing might just catch on. "When we first started, people didn't really know what to expect," Mooallem says. "But when it's working, people stop trying to figure out what it is and just kind of go with it. People will come up afterward and it's almost cheating—they're basically at a concert and they have all this excitement."
Ultimately, Mooallum doesn't expect he's going to change how books are marketed, but he thinks he might be onto something fun. After all, he says, "Why shouldn't these things be more entertaining?"
Wild Ones Live! will be heading through Chicago, Philly, New York City, Boston, and DC. You can listen to the whole Black Prairie album here.?