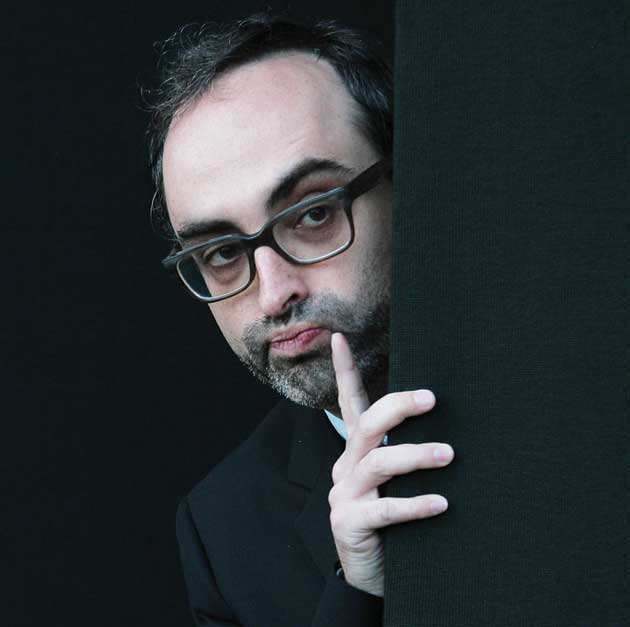 Fight disinformation:
Sign up
for the free
Mother Jones Daily
newsletter and follow the news that matters.
If you've read Gary Shteyngart's novels, you may already have him pegged: the Russian-Jewish immigrant. The hilarious, self-deprecating, gadget-obsessed Manhattanite who holds his liquor well, his ladies not so much. His three previous bestsellers, The Russian Debutante's Handbook, Absurdistan, and Super Sad True Love Story, all channel elements of their author's bio, so perhaps Little Failure, his new memoir out on January 7, is where he's been headed all along.
Shteyngart's parents emigrated to New York when he was seven, one of the early shipments of "grain Jews" allowed to leave Soviet Russia during the Carter era in exchange for wheat from the Americans. He grew up in Little Neck, Queens, a wimpy misfit his dad called Soplyak ("Snotty") and the Hebrew school bullies dubbed "red gerbil."
It was a familiar immigrant-kid existence, with his parents pushing one version of the American Dream (good grades! lawyer!) while young Gary stumbled through his own (passable grades, writer). After graduating from Oberlin College, he joined the Hunter College MFA program under the tutelage of author Chang-rae Lee, who practically flung Shteyngart's first manuscript at a Penguin Putnam publicist. In Little Failure, Shteyngart recalls in his signature Chekhov-meets-Borat style how he wrote his way through a sickly Soviet childhood, middle-school bullying, and his own insecurities to become a success—if never quite successful enough for his parents.
Mother Jones: So why a memoir?
Gary Shteyngart: I've been using this material as the sauce for my pasta, so to speak, and I decided to give away the recipe.
MJ: Right. Your novels draw a good deal from your own experiences. So how was it different writing about your life overtly?
GS: In literary fiction, "going memoir" is considered a little bit of a cop out. But it's a little tougher for somebody who relies on outlandish scenarios, like me. You can't run away and hide behind humor. My technique has been you put out the difficult stuff and you come right back with a comic rejoinder. You punch with the left and the right, and the right is humor and the left is truth. But here you are relying on the truth: If something isn't funny then you have to stick with that.
MJ: Does releasing a memoir bring you more trepidation than releasing a novel?
GS: Well, yes. I imagine some people won't be happy with the way they're portrayed. You have to deal with that.
MJ: You depict your parents pretty intimately—the threat of divorce, your dad hitting you. How do you feel about them reading the book?
GS: The major test for me is how honest have I been? With my parents, I wanted to focus on all of it: the wonderful stuff, the humor, their value on education, the fact that they kept up Russian with me—which was instrumental in my ability to write books like Absurdistan that rely on my ability to go back to Russia and interact with people. And I also wanted to focus on how they became the people that they are—how much of this is a response to growing up under Stalin, as both of them did, and having so many of their relatives killed in the war or sent to the labor camps.
MJ: I love the scene in the rotating Marriott restaurant where your parents chide you that you're not good enough because [New Yorker editor-in-chief] David Remnick beat you by eight spots on some list of New York's top writers.
"How do you fail these parents? I was really not a good student, and I felt that shame every day."
GS: Nothing's ever good enough! Not just for them, but for many immigrants. Some of my best friends are Korean or Indian immigrants and it really is the same kind of situation: "You're the third best doctor in the New York Metropolitan area? Why aren't you the best?" They'll remember the names of the two doctors that beat you and they'll carry that around forever. It's a fascinating condition, because it means one can't even remotely conceive of happiness. How do you fail these parents? I was really not a good student, and I felt that shame every day. That's one of the reasons I started smoking pot and drinking daily.
MJ: But would you credit some of your success to your parents' admonitions?
GS: Yeah, I think I would. First of all, they provided me with the material for all these books by not Americanizing all that much. And the artistry—or what I hope is artistry—is a response to the traumas of childhood. If those traumas could've been avoided, perhaps I wouldn't have been a writer. If my mother hadn't tried to sell me chicken Kiev cutlets for $1.40 after I graduated from college, maybe I would've been the lawyer she wanted me to be.
MJ: How did you research the book?
GS: I've been blessed with a very good memory of childhood. It's incredibly clear when I close my eyes, as if a video were downloading in my brain. It also involved meeting a lot of old friends—from high school, from Hebrew school—and talking it through, being corrected on various points. And sitting down with my parents. They were very generous in giving me a lot of time. They went to Russia with me for a week.
MJ: As a young kid, you discovered that if you responded to a question with a joke, your risk of being regarded as lame was greatly reduced. What's your relationship to humor as an adult?
"Before my first novel, I was dating a woman who later went to prison for bashing a guy with a hammer."
GS: It's a good point. I was the child who wrote the Gnorah [a middle-school Torah parody] to create a space where he could be seen as something other than a failing freak, and then went on to write humorous novels that did the same. My first book really did change my life. It allowed me to fully express myself. There was a sense that I was worth something as an artist. In Hebrew school, it was that I was worth something as human being. I had this great sense that I really wasn't worthy of being socialized with these people who had their own community and much more wealth, obviously, than we did.
MJ: So humor saved you.
GS: It did. I redefined the terms! I wasn't a Russian anymore, I was a storyteller. When that yearbook came out, there were no Russian references in the quotes that kids ascribed to me, but there were for every other Russian kid. The joke, of course, is that in the end writing about being Russian became my bread and butter.
MJ: And cheese! Did your grandma really pay you for your childhood stories in cheese slices?
GS: Yeah! I love cheese. If I do a mile-long swim in my pool, I cut a little slice. That's my reward system.
MJ: What kind of cheese was it?
GS: Some kind of Soviet concoction. It wasn't very tasty by today's standards.
MJ: You're very active on Twitter. Can you sum up your childhood in a tweet?
GS: [Laughs.] Asthmatic immigrant learns to breathe by writing. #AsthmaticRussianJew
MJ: Is there anything in the book you worry might be misunderstood by a US audience?
GS: Well, one doesn't read a Junot Diaz book and say, "Oh my god, all Dominicans are exactly like this." I'm sure that many of the kids I went to school with would be surprised to see it portrayed this way. To them, I was just this funny kid who was constantly making jokes and writing stuff. I had a best friend, but I couldn't confide in him just how awful I felt and the things that were happening with my private life. It remained hidden for a very long time—until my first girlfriend, JZ at Oberlin. That was a breakthrough, where I was able to talk honestly with somebody. All of my books have an element of a man who is in love with somebody and needs them desperately, not just for procreation but for being able to fully unbosom himself. He only feels comfortable discussing things with women. Which is funny, because 80 percent of readers are women!
"People always write on my Facebook that they've seen somebody they thought was me on the subway, and I was cursing badly."
MJ: Do you still perceive yourself as this dweeby guy who clings to women way cooler than him?
GS: A lot of that went away with the first novel. Before the novel, I was dating a woman who later went to prison for bashing a guy with a hammer. And she had another boyfriend! Can you imagine the depths of self-rejection one would have to reach in order to have a relationship like that?
MJ: Tell me about going from the writer who scrambles for rent money to the one who gets to quit his day job.
GS: I'm very pessimistic about the future of writing. Even now I have a job! I teach at Columbia. I do travel writing. I write scripts sometimes. I made sure that if things fall apart there'll always be something. Maybe it's the immigrant in me—of course it's all going to fall apart.
MJ: Now that you're a famous author, do people recognize you in public?
GS: People always write on my Facebook that they've seen somebody they thought was me on the subway, and I was cursing badly or something—but usually I'm upstate!
MJ: Your novels all include some kind of rift between rich and poor. What inspired that?
GS: My parents who were constantly afraid they would lose their jobs. The idea that we were always a paycheck away from disaster was drilled into me. What inspired a lot of Super Sad is the idea that the middle class, which I always held up as this amazing example of what America does so well, is gently sliding into poverty—not so gently, sometimes. Super Sad in some ways is a kind of dirge for the middle class. Now there really is this endless arms race among the rich for a greater share of the spoils. Very, very greedy. Very lacking in empathy and compassion. It's terrifying.
MJ: As a kid, you would try and pretend you had more money than you did.
GS: Exactly. Back then, I had one shirt and one pair of pants. And I was never seen as being American. That's one reason I wanted to embrace the Republican politics of the other kids. Because I wanted to show that I was more American than anyone else.
MJ: There's a memorable scene where you go to Macy's with your mom to buy clothes for Stuyvesant…
"If I write from a non-Russian voice for an entire book, what will it sound like? I don't know yet."
GS: I felt so guilty! I remember to this day the numbers adding up on the register. I just thought, "My god, what am I doing? I'm going to destroy this family by spending $300 at Macy's."
MJ: Tell me a bit about your writing process.
GS: I write for three to four hours a day, more if I'm editing. And I write five, six days a week. The thing is capturing the voice. I feel like I've been perfecting one voice—in different iterations, sure, but the Russian-ness has always been the undercurrent. I was really pleased with the way Eunice Park came out in Super Sad. I thought it was authentic, and many Korean-Americans told me that, too. If I write from a non-Russian voice for an entire book, what will it sound like? I don't know yet.
MJ: So what will your next book be?
GS: I think it will be a novel. I want it to be set in various cities around the world, like Shanghai and Bombay and Dubai. And it will have no Russian Jewish male protagonists. But we'll see. Three to four years from now, it'll be another completely Russian novel and I'll have failed miserably at my task.
Here's the trailer for Shteyngart's memoir, Little Failure, out January 7: