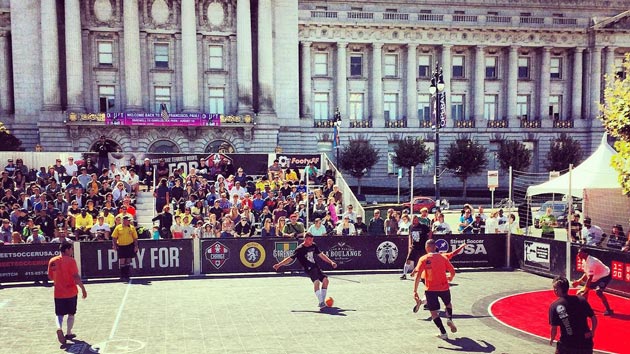 Fight disinformation:
Sign up
for the free
Mother Jones Daily
newsletter and follow the news that matters.
"A homeless soccer team? What?"
That's what Shane Bullock, 26, recalls thinking when a coach came by his San Francisco shelter last fall to recruit players. Now, a year later, he's in Santiago, Chile, representing the United States against teams from 49 countries at the 12th-annual Homeless World Cup.
The Homeless World Cup—which is actually just what it sounds like—draws a total of 100,000 spectators to cheer on teams of homeless (or, like Bullock, recently homeless) men and women in highly competitive four-on-four soccer matches, which are played on a basketball-sized court with walls and mini-goals.
When he first heard of Street Soccer USA (the Homeless World Cup's US affiliate), Bullock had recently fallen into homelessness. He had moved out of his brother's Sacramento apartment to be closer to another brother in San Francisco, but he found himself on the street and then in a shelter. When he was first approached about joining the team, "I told them I'd take a rain check."
"Finally I decided to go out," he says, although he initially didn't realize that it was a part of a league. "I thought we were just going to play pickup soccer in the alley around the corner. That caught me off guard, but it's been pretty fun."
Bullock was announced as a member of the World Cup men's squad in August at the closing ceremony of the Homeless National Cup, which brought Street Soccer USA (SSUSA) teams from 16 cities to compete in San Francisco. Eight men and eight women were selected, based on off-field achievements, soccer ability, and leadership.
Regional partners like SSUSA fields (and funds) each team. At practice, SSUSA coaches help players set goals—such as creating a résumé, obtaining identification, earning a GED, or securing housing—and refer them to preexisting social-services agencies. Says SSUSA national director Rob Cann, "They know that when they come to the next practice, we're going to say, 'Hey, you said you were going to go to the DMV this weekend. Did you go?'"
Street Soccer USA meets some of its costs by operating coed, recreational soccer leagues, filled primarily with teams of young professionals. San Francisco's league, I Play for SF, has 85 teams, including the one with homeless players. "It's kind of cool to see our homeless folks assimilate with people from different strains of society," says Bullock's coach, Benjamin Anderson. SSUSA estimates 2,700 homeless participants have played on its teams since 2009.
Bullock says the World Cup trip isn't the first time soccer has helped him off the field. "I'm not very outgoing, so it's allowed me to open up a little," he says. "And just getting out and moving. That has done wonders just for clearing my mind alone."
Since joining the team, he's been hired by I Play for SF to help set up for games twice a week, allowing him to move from the shelter to a single-room occupancy apartment.
"That's the nice thing—to see it go full circle," Anderson says. "A guy who was kind of lost and confused and lonely, not only became a part of a community that he contributes to, but has a job and has his own place."
Cann says the goal of helping homeless people gain structure and meaningful relationships doesn't necessarily have to be achieved via soccer. Although some aspects of the sport do work particularly well—it's cheap to play and can be set up anywhere—what's important is that "it's a platform and a humanizing activity."
Of course, only a tiny fraction of the world's estimated 100-plus-million homeless population is competing this week in Chile, and critics may wonder whether flights across the globe are the best use of funds. (Cann says the trip is funded through designated donations, specifically for the HWC.) Still, the Homeless World Cup maintains one of its main goals is to "change people's attitudes to homelessness."
And even though Bullock's US men's team has struggled this week, starting out with a 2-4 record, there's much more to the event than what's happening on the pitch. During the trip, US players spend downtime in leadership training sessions, where Cann says participants like Bullock are encouraged to remain with the organization as mentors and role models for newer players.
"It's always been a thing of mine, helping people," says Bullock, who is considering staying on with Street Soccer USA. "Being with this program, it pushed me toward wanting to find ways that I can help people in whatever way I can."
You can watch a live stream of the action at the Homeless World Cup website.