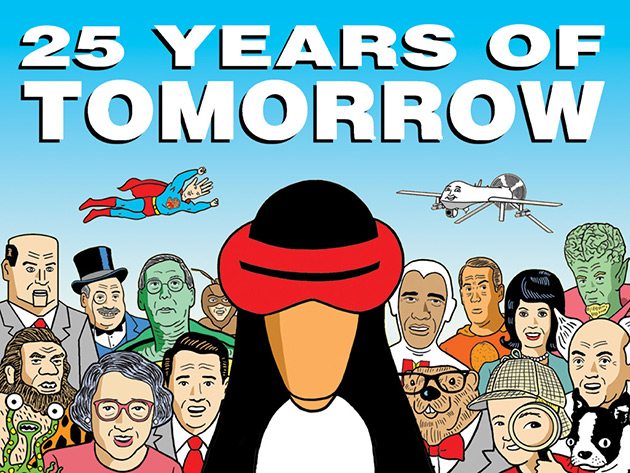 The average lifespan of an Antarctic emperor penguin is 15 to 20 years. The average lifespan of an American comic strip is probably far shorter. Both are reasons to celebrate the 25th anniversary of This Modern World, Tom Tomorrow's unconventional political comic strip starring the endearingly acerbic Sparky the penguin.
Earlier this year, Tomorrow (AKA Dan Perkins) was nominated for a Pulitzer—not bad for an independent cartoonist who got his start in zines and alt-weeklies and survived the bumpy switch from newsprint to pixels, not to mention two Bush administrations. To commemorate this odds-defying accomplishment, Tomorrow has spent the past year tracking down just about everything he's drawn since 1990 and compiling it in a massive, two-volume set that he's self-publishing through a just-launched Kickstarter campaign. In addition to the awesome-looking collection, incentives for funding the project include a stuffed Sparky, swag from TMW pals Pearl Jam, and a chance to indelibly ink Tomorrow with an image of America's favorite flightless political observer.
Mother Jones: Sorry to put a damper on things, but I heard that print is dead. What are you doing compiling a 1,000-page, 15-pound set of volumes for people to buy?
Tom Tomorrow: The same people who say that print is dead are the same people who say that the future of print is artisanal. And I see this as a very artisanal project!
MJ: Tell me how you got the idea to put together almost everything you've done over 25 years.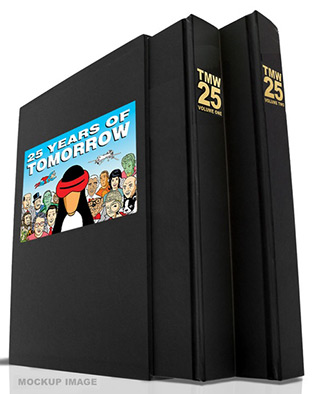 TT: A couple of years ago, I ran across this big Taschen two-volume set of midcentury advertising. As I was looking at this whole package, something just clicked because I realized that my 25th anniversary was coming up. I always mark 1990 as the real start of my career because that's when the strip started getting picked up; it's when it stared getting political. (It's a little bit of an arbitrary date; really if you wanted to mark an anniversary it would have to be when I turned five, because I always drew cartoons as a kid.) But 1990 effectively marks 25 years as a professional cartoonist, and that's a big chunk of my life. And I thought it shouldn't pass without marking the moment.
MJ: Has going though 25 years of work been nostalgic?
TT: I wouldn't say it's been nostalgic. Initially, it was horrifying! The very early work, it makes me cringe a little bit. And then it gets pretty good within a couple of years, and I was relieved to find I was actually proud of it. A lot of this stuff I hadn't read in 20, 25 years. I was kind of surprised how well it held up, honestly.
MJ: Well, you've been hitting so many of the same themes throughout your career. Which topics or throughlines did you see as you went through your work?
TT: Certainly gun control, on which we've made almost no progress in 25 years. Heath care is a very interesting one as a person who's been a freelancer for 25 years. For a country that celebrates entrepreneurship, the peculiar American linkage of health care to employment status is puzzling. Obviously we have made progress on that one.
MJ: Some of the political figures, like the Clintons and Bushes, haven't changed.
TT: Yeah, I'm looking at all these years I've spent writing about the Bush family and hoping I don't have to do that beyond this next election.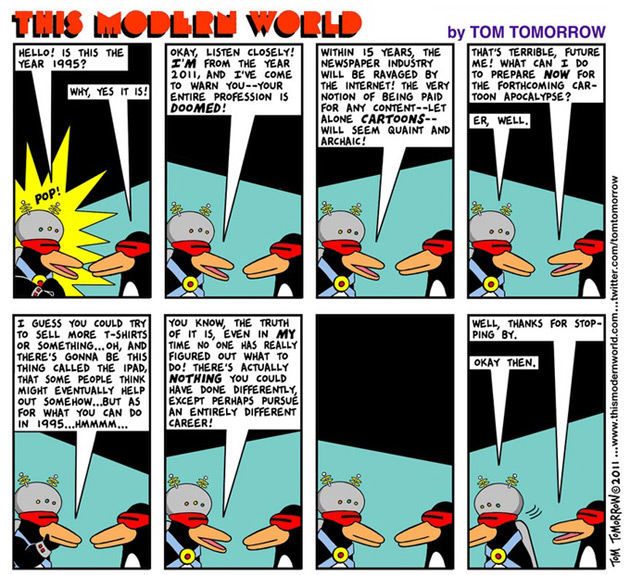 MJ: How has your perspective on the strip changed?
TT: In 1990 there was no internet, there were no blogs, there was no social media. In those days I really viewed the strip as a vehicle for conveying information that people might not have had access to elsewhere. I don't see it quite in that light anymore; I assume people know how to use search engines. I think it's gotten a little more playful and less didactic. It's still the wordiest strip out there, but less than it used to be.
MJ: One of incentives for the stretch goals is that if you read your top goal, you will get a Sparky tattoo.
TT: It would be my first tattoo of my own creation. It's crazy expensive to make this; all the money is going to printers and to everyone that I've been working with who deserve to be paid for their work. It's been a tremendous amount of work to get this stuff located and scanned and sequenced. It's a labor of love until we hit some stretch goals. If we reach them, I was just trying to think of some extravagant gesture to show how much that would mean to me. So I just threw in the tattoo. I honestly didn't think about it a lot. I may come to regret it!
Make Tom Tomorrow's regrets—and dreams!—a reality at his Kickstarter page.